The rebellion of machines is not only about Skynet and Terminator! From now on, it can also be associated with a car trip in the company of the whole family, a pug in a police uniform and a smartphone with a British accent. The latest production from Sony Pictures Animation is an original and fun approach to the theme of robots taking control of people.
Za tą animacją stoją Mike Rianda, znany z serialu Wodogrzmoty Małe, scenarzysta Jeff Rowe, a także Phil Lord i Christopher Miller, producenci odpowiedzialni za serię Klopsiki i inne zjawiska pogodowe oraz kultowy już film Spider-Man: Uniwersum, w którym zapoczątkowali nowy nurt w pełnometrażowej animacji. Takie połączenie wróżyło świetny efekt. Ale czy tak właśnie wyszło?
Poznajcie Mitchellów, najgorszą rodzinę w historii
Katie Mitchell, nieco odmienna od rówieśników dziewczyna z pasją do tworzenia zwariowanych filmów, dostaje się na wymarzoną uczelnię. Nie może doczekać się wyprowadzki z domu rodzinnego i zmiany środowiska. Jak większość młodych ludzi w tym wieku, Katie nie może dogadać się z rodzicami. W szczególności trudno jej znaleźć wspólny język ze swoim rozmiłowanym w przyrodzie ojcem Rickiem, który nie potrafi odnaleźć się w świecie nowoczesnej technologii i mediów społecznościowych. I to właśnie Rick wpada na pomysł, by najstarszą latorośl odwieźć na uniwersytet. Mitchellowie – Rick, Katie, mama Linda i młodszy brat Aaron – pakują się zatem do starego auta, zabierają swojego psa i rozpoczynają międzystanową podróż w stylu Clarka Griswolda. Zostaje ona jednak przerwana przez bunt maszyn i to od rodziny Mitchellów zależy los świata i uzależnionych od Wi-Fi obywateli.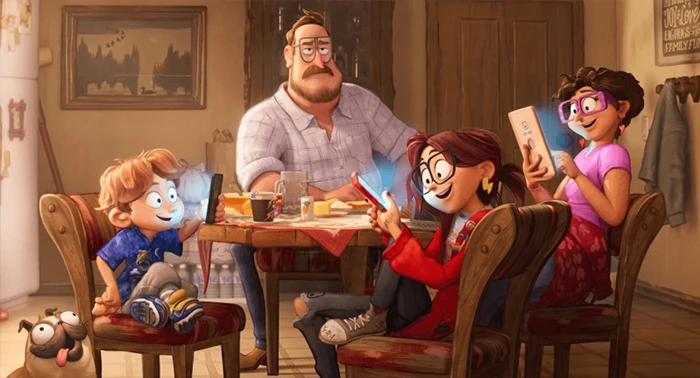 Już z samego opisu widać, że twórcy zdecydowali się na dosyć ograny motyw międzypokoleniowego niezrozumienia. Domyślamy się, jak mniej więcej będzie przebiegać droga do znalezienia wspólnego języka, który Rick i Katie utracili lata temu. Możemy właściwie przewidzieć to, że w kolejnych aktach utracone zostanie czyjeś zaufanie, ktoś straci nadzieję, a potem stanie na wysokości zadania dzięki rodzinnemu wsparciu. Ale wszystkie te momenty są potrzebne, by opowiedzieć w pełni satysfakcjonującą historię Mitchellów jako przede wszystkim rodziny, a potem zbawców świata. Na obronę twórców, jak i samego filmu, powiem jednak, że znajdziemy tu kilka fabularnych niespodzianek. Do tego Mitchellowie kontra maszyny to wyśmienita wizualna uczta, ale o tym później.
Utracona więź między rodzicami i dziećmi oraz jej odbudowywanie to główne wątki tego filmu. Jak bywa jednak w kryzysowych sytuacjach, a nie ukrywajmy, roboapokalipsa taka jest, więź ta zostaje uratowana i staje się sposobem na rozjechanie armii nowoczesnych robotów. Finalnie twórcom udaje się pokazać, że Rick i Katie, a wraz z nimi dwie różne części społeczeństwa ostatecznie mogą ze sobą współistnieć, zamiast próbować coś w sobie na siłę zmieniać.
Podczas seansu z radością stwierdziłam, że żaden z przedstawionych w tym filmie żartów, czy gagów nie jest niepotrzebnie przeciągnięty. Puenta każdego z nich wypada w idealnym momencie, a do tego nie są to żarty okrutne czy złośliwe. Podoba mi się nieco przerysowany sposób, w jaki pokazane jest nieobeznanie Ricka z nową technologią, matczyna troska Lindy o wszystkie swoje dzieciaki czy obsesja najmłodszego Mitchella na punkcie dinozaurów. Jednocześnie w całym tym festiwalu żartów i gagów z udziałem mopsa, legionu zabawek Furby, robotów i zdezelowanego auta przemykają wyjątkowo subtelne i dobrze napisane dialogi czy scenki, które pozwalają nam bliżej poznać bohaterów.
Witajcie, ludzie! Jak możemy was zniewolić?
Główna obsada to kilka znanych komediowych nazwisk. Abbi Jacobson, znana z serialu Rozczarowani, to przekonująca główna bohaterka, która stoi na początku nowej drogi. Danny McBride pokazuje swoją bardziej szczerą i subtelną stronę dzięki roli Ricka, Maya Rudolph jest świetna jako Linda, ale najlepszą robotę wykonuje tutaj Olivia Colman, czyli czarny charakter tej produkcji. To, co robi z rolą sztucznej inteligencji PAL to jakiś aktorski kosmos! Jest to pewne wyzwanie: przekazać tylko głosem, jak telefoniczna aplikacja, mająca być ucieleśnieniem terminu user friendly, staje się wrogiem ludzkości.
Zresztą sposób, w jaki Mike Rianda i Jeff Lowe piszą wszystkie roboty jest zabawny. Według pierwotnego planu twórcy, doktora Marca Bowmana (w którego wciela się Eric Andre), miały one być kolejnym krokiem w ułatwianiu i uprzyjemnianiu życia ludziom, personalnymi asystentami. Dlatego roboty mówią przesadnie jowialnym i przyjaznym tonem nawet podczas wyłapywania ostatnich ocalałych ludzi i przygotowywania ich do wystrzelenia w kosmos. Przy tej niezliczonej armii robotów pojawia się wątek dwóch egzemplarzy, które zyskują własną osobowość i sprzeciwiają się woli PAL. I wtedy właśnie oprogramowanie "Hello, my human friend, how may I help you?" pasuje idealnie!
Mitchellowie i świnia, pies lub bochenek chleba
Film od samego początku tworzony był z myślą o seansach kinowych, jednak przyszedł 2020 rok i świat praktycznie się wyłączył, więc Mitchellowie powędrowali na streaming, jak zresztą spora część filmów z tamtego roku. Normalnie można by narzekać, że film traci rozmach i nie da się go odbierać tak, jak na wielkim ekranie. Jednak dostajemy tak bogatą wizualną ucztę, że nawet podczas domowego seansu bawimy się świetnie.
Mitchellowie kontra maszyny to połączenie animacji komputerowej i tradycyjnej kreski. Ta druga forma jest sprawnie wkomponowana w CGI, bo postacie wyglądają jak naszkicowane. Dodatkowym rysunkowym akcentem są animacje, podpisy i karykatury, które są odzwierciedleniem twórczości Katie, bo to głównie z jej perspektywy śledzimy wydarzenia filmu. Drobne rysunkowe postacie przemykają przez ekran w bardziej dynamicznych sekwencjach, ale nie pojawiają się w spokojniejszych momentach, które mają opierać się tylko na dramaturgii i dialogach. Dzięki temu film zachowuje odpowiednią równowagę warstwy wizualnej.
Pochwalić warto design postaci i świata. Nie są to projekty przerysowane, ale jeżeli popatrzymy na cień czy obrys, to łatwo będziemy mogli rozpoznać każdego z bohaterów. Rick i Linda wyglądają jak rodzice, ale nie są jednocześnie karykaturami, a Katie ma swój niepowtarzalny styl młodej artystki. Mitchellowie kontrastują z nowoczesnym i minimalistycznym designem robotów oraz całej siedziby Laboratorium PAL, gdzie dominują neonowe światła i przytłaczająca wręcz ilość gładkich jak tafla szkła białych powierzchni. Myślę też, że nie bez powodu najbardziej kryzysowy moment dla Mitchellów rozgrywa się właśnie w samym środku tego chłodnego i bezosobowego miejsca, a w momencie triumfu unoszą się oni ponad to wszystko i szybują wśród chmur i świetnie wkomponowanej serii animowanych wstawek w oryginalnym stylu Katie.
Czy Mitchellowie są spoko?
Co tu dużo mówić, Mitchellowie kontra maszyny to naprawdę porządny kawałek rozrywki. Film prezentuje się świetnie, unikatowy styl animacji ciekawi i przyciąga uwagę niemal w każdej scenie. Historia ratowania świata – mimo tych kilku dobrze nam znanych motywów – opowiedziana jest sprawnie, nie nudzi, a żarty nie są przeciągnięte. Obsada radzi sobie świetnie z materiałem, jaki zaserwowali im Mike Rianda i Jeff Rowe.
Możliwość oglądania filmu na Netflixie, w każdej wersji językowej, na poprawę humoru czy dla jakiegoś motywu, który rozkłada na łopatki (dla mnie to zdecydowanie Linda w mamabear mode) to przyjemna opcja. Jeżeli jednak przy restartowaniu świata po minionym roku, Mitchellowie kontra maszyny trafi kiedyś do kin – na regularne seanse, na jakiś festiwal czy z jakiejkolwiek innej okazji – powinniśmy wszyscy zobaczyć go jeszcze raz, tym razem na dużym ekranie.