Sea Stax is a logical puzzle game designed for one player. Is it a lot of fun to create intricate patterns from figures depicting marine life?
There were dogs, there were cats, and now it's time for sea creatures!
Sea Stax is a simple puzzle in which we have to place dedicated sea creatures on a designated field, rotating them freely. Some tasks are more difficult because they require the use of more figures, and sometimes you need to create more layers (maximum three). While playing Columbus' Egg , I was complaining about the low difficulty. The first tasks were especially hard for me. In Sea Stax, however , even the beginner level is a real challenge, or at least it was for me. I especially liked the spatial puzzles!
Often, most tasks can be accomplished in more than one way. Thanks to this, you don't have to think in the same way as the game developers. However, not all challenges were equally exciting. And that is my main complaint. When we have a field that is a large rectangle, and for this we have to use all or almost all of the figures, the fun can drag on. There is no anchor point. For this reason, I struggled more with the first level challenges than with the penultimate one. It was on the expert that I found tasks with such unusual shapes on the cards that I took care of them with great pleasure and enthusiasm! I also solved them much faster than the first (easier?) puzzles, and I felt much more satisfied.
The charms of underwater life
I like Sea Stax visually more than Dog Pile or Cat Stax due to the greater variety. We have sea turtle, crab, shark, octopus and starfish figurines. They look wonderful, and they have such fanciful shapes that some challenges seem impossible! At the beginning, it is also easy to get lost, because at first glance you can't see how much space a given fish actually takes up (in the first games I had the biggest problem with the shark).
I like that the whole game comes in a tiny box that will fit in your pocket. It's a pity that there are no hints other than solutions. Forty-eight tasks are quite a lot, especially since several solutions are often possible. So replayability isn't that bad. Sea Stax reminds me of the Ubongo series . The advantage of this puzzle is that we have 2D and 3D challenges in the package, but I would much rather reach for Ubongo Lines or Zip City .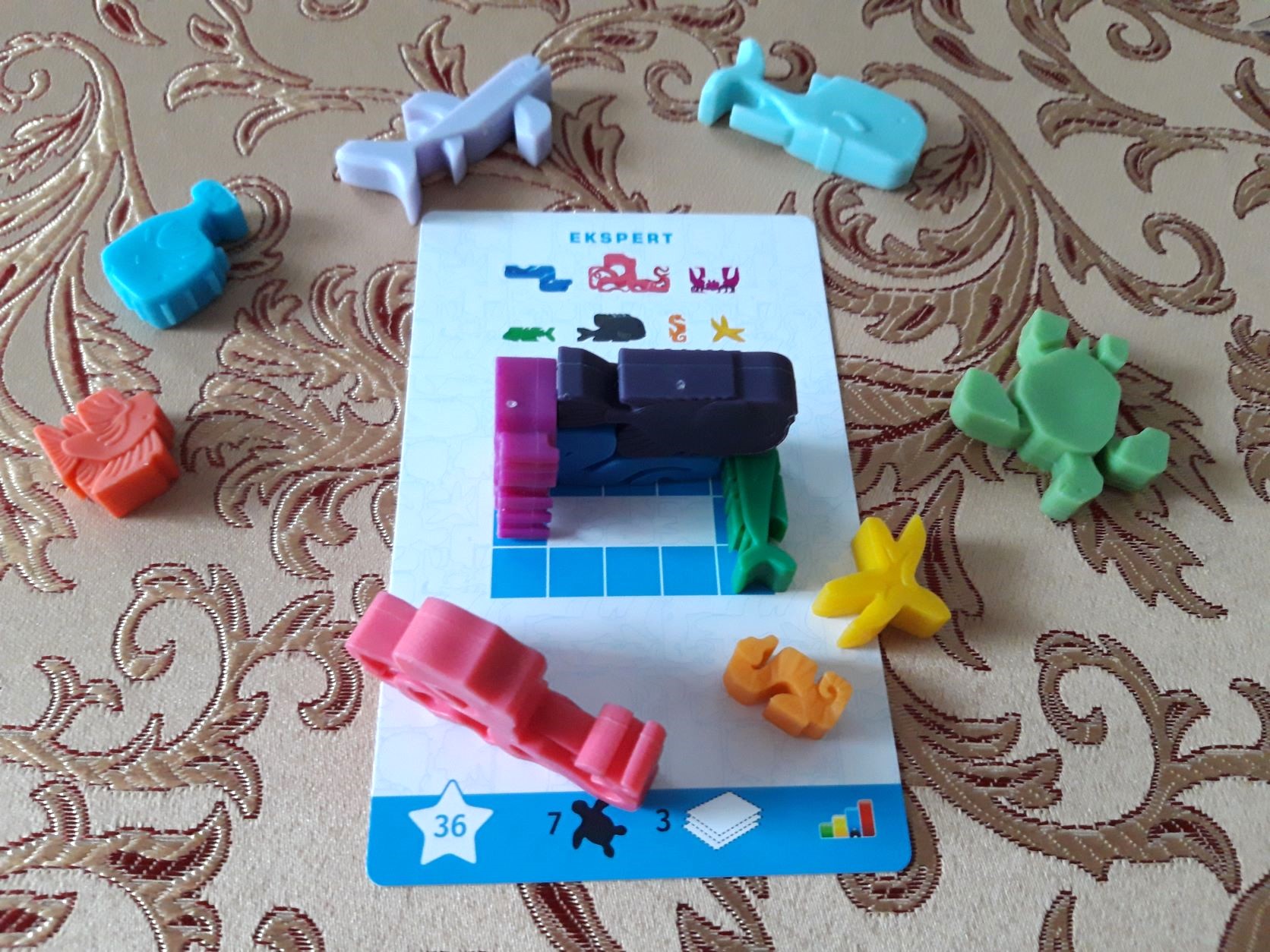 Is it possible to combine a turtle with an octopus?
I'm still battling Sea Stax unlike Zip City (I'm dosing my puzzles here because I don't feel like solving more than two-three in a row). It's fun to play, but some challenges are less exciting and more tedious than others. Solving forty-eight problems can take a really long time. If someone likes to spend time solving puzzles, this will be the perfect position for him. However, it is not as exciting and addictive as the brilliant Zip City !