Despite the passage of many years, as I still remember the moment when I saw the kiosk first issue of the comic WITCH I was totally and completely fascinated, because in addition to Sailor Moon (by the way retractable corners, because the manga and anime have enjoyed in Poland a good opinion) the only comic then available to me were Donald Duck and Mickey Mouse . The red-haired girl with big eyes seemed to promise something new and something aimed only at girls.
I will not say, I shed a tear while reading the introduction written by Agnieszka Wielądek, the then editor-in-chief of the Sorceresses of WITCH . I remembered the excitement of each successive number, hours of fun with the pendulum (it was included in one of the albums) or the craze for gadgets with guards later. Thanks to the collective edition, many pleasant memories from my youth returned to me, but how did the reading of the comic fare?
You have been chosen – to charm with your adventures
I will briefly summarize the plot for those unfamiliar with Will and the crew. Apart from the Earth, there is another world full of monsters and for a balance to reign between these places, special guards are selected from time to time. Will, Irma, Taranee, Cornelia and Hay Lin (hence the WITCH title) are teenagers and friends from school. Day by day it turns out that they have magical powers, and stranger situations are happening around them. As if that were not enough, their friend Elyon mysteriously disappears, and the girls decide to figure out what happened to her. Of course, apart from the magical part of their lives, there are also a lot of everyday issues and problems typical of teenagers that they have to deal with.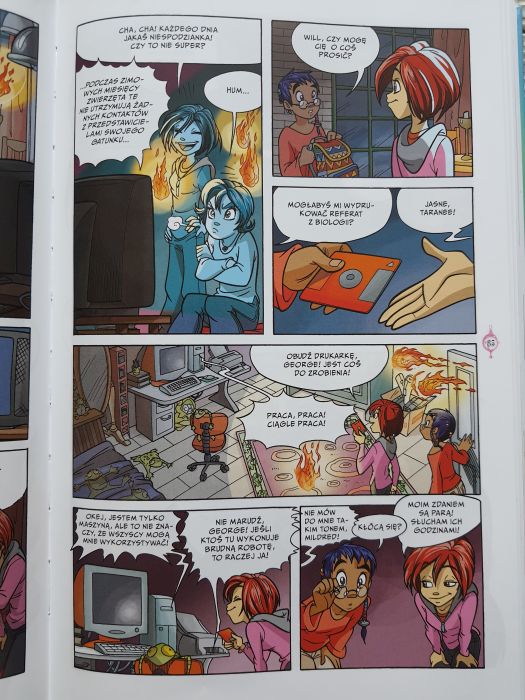 By the power of Kandrak .. Kondrakaru!
I found the return to the oracle, the web and of course the five powerful female characters extremely enjoyable, not only because of the mass of memories, but also because it's a really interesting comic book. I was a bit afraid that, as in the case of some titles, re-reading it at an adult age would spoil my childhood memories. Fortunately, sorceresses defend themselves perfectly even now. Girls have varied and well-defined characters (and thus powers). Although their adolescence problems no longer concern me, it seems to me that they still appear in younger generations. Tensions with parents, first feelings, friendship and the resulting feeling of belonging to a group or even aversion to teachers and school – these are just a few of these topics in the comic.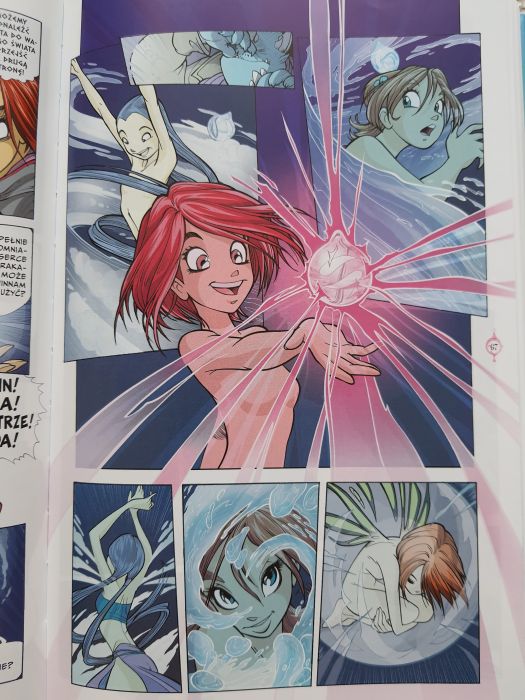 A bit manga, a bit Disney
The style in which WITCH is drawn was something new and fresh at the time of its first publication in Poland. Currently, we have the opportunity to admire the work of many artists from around the world, so I understand if the comic book does not impress new audiences due to its innovative nature. For me, it is still an excellent golden mean between the work of Japanese mangas and Disney's cute princesses. However, there is one thing that currently lights up in my mind as an adult reader and we have a lamp. Girls in their magical form are extremely slender and endowed with feminine shapes (Irma even uses it to go out for pickup). Flat bellies, skinny long legs and breasts – these elements of their figures are very noticeable and, as they used to be for me as girls, very "WOW, I want to look like this too", now I have the impression, that they focus the readers' attention too much on appearance. At a time where we are striving to become more aware that it is not what we look like that is important, but what we feel (not to mention the fact that we are struggling with pressure on girls and women to always look like a cover) it's just me offends. I would prefer sorceresses to wear less tight and more functional clothes, different body types and less makeup not only in human but also in magical form.
How will the fate unfold in the next episode!
I gave my comic book collection to the library, but now I will be happy to buy collective editions, because WITCH not only evokes good associations in me, but is also beautifully published. For fans of time travel, a must-have item, and new readers should also like this proposition.