Their heads are cut off in such a way that they like to talk to each other. Is it as a matter of dreams, such as Jack Rafferty in Sin City , or due to a curse / spells, where, for example, the wonderful Tekla from Head loppera . Joe Hill raised the stakes, however, and in a basket full of heads he presents not one, but several talkative skulls.
Joe Hill has been very successful in recent years. Few can boast such versatility. The bestsellers are not only books (including NOS4A2 ), but also comics (great Locke and Key ). Well, both examples have been screened in series, and Hill has also had his fingers in the movies ( Rogi with Daniel Radcliffe). In view of this popularity, DC has decided to dedicate the entire imprint to the writer / screenwriter. This is how Hill House Comics was created, which included Egmont 's Dollhouse Family published by Egmont and a Basket Full of Heads reviewed here .
Island of Secrets
The last weekend of summer. June Branch decides to visit her boyfriend Liam, who is just finishing an internship with the sheriff at the seaside resort of Brody Island. They are not allowed to spend romantic moments, because a sudden storm cuts the island from the mainland. Worse, the sheriff's house where they take refuge is raided by fugitives from a nearby prison. Liam is kidnapped, and June, in self-defense, reaches for the first thing she has at hand, a Viking ax. The heroine manages to behead the thug's head, but she … still remains conscious. It turns out that a magic weapon is not only handy, but also leaves decapitated skulls alive. Armed June decides to save her boyfriend. The ax is not the only mystery hidden on the island, however.
Beheaded
A basket full of heads combines horror, dark humor and criminal plots in perfectly mixed proportions. Hill has managed to create a simple story that has a good pace at the same time. The captivating scenario can surprise you, the leads are properly confused every few pages, and the criminal puzzle keeps you in suspense until the very end. The heroes are well written. June is not a "lady in distress", nor a fearless warrior who constantly springs on jokes. She's just an ordinary girl, willing to do anything to survive. Despite the incredible situation she finds herself in, she keeps a cool head (you can say that … she doesn't lose her head [ badum tss ]), she shows cleverness and determination. Of course, magic weapons solve most of her problems, but they never work like thatdeus ex machina ( ax ex machina? ). I also like that Hill skipped the "fantasy babble" and, apart from some circumstantial evidence, does not give a clear answer as to where the amazing properties of the Nordic weapon come from. This is not the purpose of the story, and June herself does not think about it when so many other things are going on around her. The cut-off skulls are an equally great star of the comic. As the title suggests, the basket fills up as the plot progresses. Each of the severed heads reacts differently to its "death", which leads to comic exchanges of views. Hill also uses them for display – many elements are simply explained in the following dialogues, although it was done skillfully enough not to be disturbing.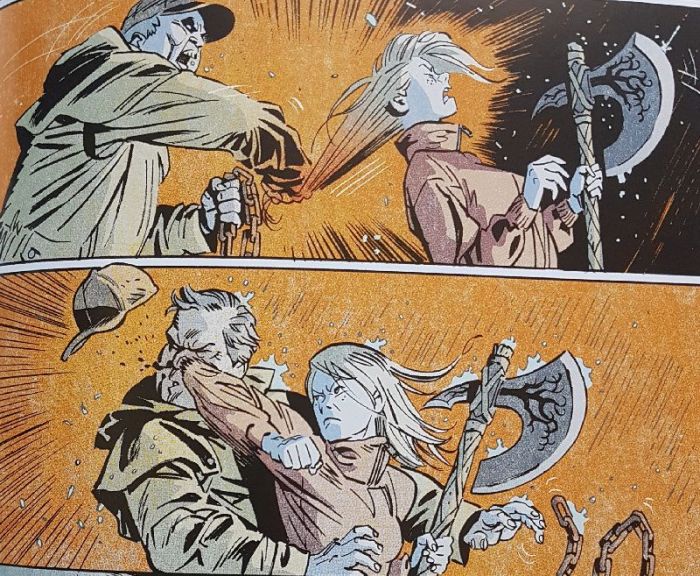 Attack of the clones
The artist using the pseudonym Leomacs is responsible for the drawings. He did his job well. The characters are drawn in a slightly cartoon style, which is especially visible in the overly expressive facial expressions. I am used to greater excesses in the graphic style of comic horror movies, interesting formal procedures and experimenting with the frames. It's not here. The weirdest element I couldn't get used to was Leomac's decision to draw character movement within one panel. In this way mutants with several faces or frames with clones of characters appear in places. If at least this dynamics were reflected by a less visible contour or lighter colors – no, here all the elements look the same.
The colors from Dave Stewart do a great job. The action of the comic takes place in the 1980s and the colors used (late summer oranges, blue-gray scenes during a storm) are properly washed out to better imitate comics from that period. This retro atmosphere spoiled one element of the (otherwise very good) translation from Paulina Braiter. Well, June has a tendency to call her attackers "pitchers," a popular term only recently. It was safe to replace it with another word suited to the time of the action.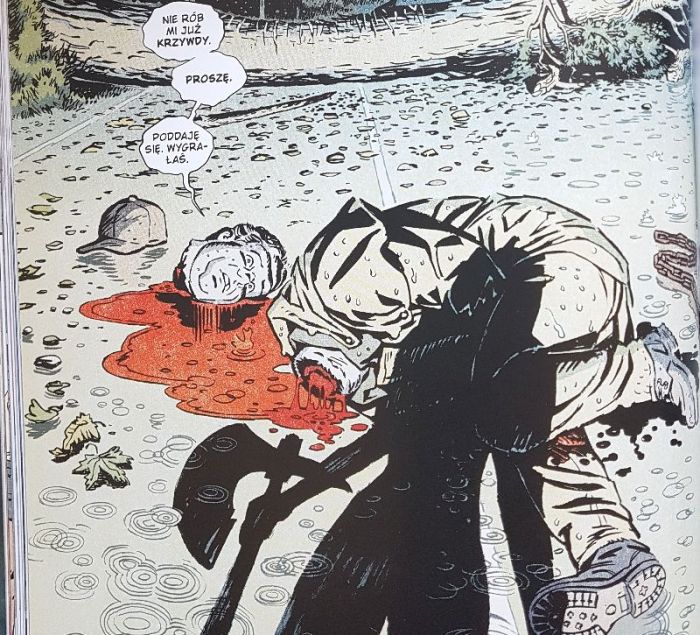 To the trash?
W przypadku komiksowych okładek rzadko kiedy dochodzi do znanego z książek zabiegu, w którym nazwisko autora napisane jest większą czcionką niż tytuł. W tym przypadku to jednak nie tylko chwyt reklamowy. Joe Hill napisał świetny komiks rozrywkowy. Co więcej, zamknął całą historię w ramach jednego tomu, przez co nie ma tu niepotrzebnych dłużyzn. Nie zdziwię się, jeśli w niedługim czasie doczekamy się ekranizacji np. od Netflixa. Fabuła Kosza pełnego głów to gotowy scenariusz na dobry film.