Mermaids, fairies, unicorns, underground gnomes - fantasy is in full swing! In addition, a steampunk city ​​(by the way of couples), all covered with cynical humor and barrels of beer.
The third season of Disenchanted brought some repetitions: our favorite characters, well-known locations and a proven sense of humor (though not as surprising as it used to be), but also a few novelties such as underground labyrinths, the island of mermaids, narcotic departures or new romances!
Love is blind (and drunk)
Netflix doesn't disappoint as always when it comes to variety. We not only have LGBT themes here, but also interspecies love. For example, Elfo has become a real lascivious adonis! She has casual sex and even falls in love twice! Not surprisingly after his earlier relationship with the giant woman, he reunites with people (and not only that, also with something much bigger than himself) of another species. He even became a bit dirty, e.g. he wanted Bean to wear her mother's sexy outfit longer. The main character also experiences something like first love, but unfortunately she does not fully remember what actually happened and whether it was not just a dream sometimes. To kill the strange feeling of longing and be ready to defend the kingdom, she takes drugs along with her ex-stepmother.
The limits of good taste?
I admit that the scriptwriters are going a bit in a crowd, although Oona, who is swimming high near the fountain, makes me laugh!
Besides, let's not forget that these are the times of the Middle Ages, and then much worse things happened. So there are standard decorations for the entrance to the castle with beheaded heads on stilts, secret orgies take place in the basement, the king's advisers plot how to get rid of him, and there are also some bizarre religious rites (worship of the moon with group slapping of naked asses).
All this after the first two seasons is not surprising! If I had to complain about exceeding the limits of tact, I would pay attention to jokes about mental illnesses and traumas, or a gag with breaking an old woman's cane (although "she was a bad woman").
New job, new responsibilities
I have the impression that Matt Groening decided to show the maturation of the characters a bit. From new love adventures, the symbolic growing of a mustache and the defeat of the old woman by young Derek, to new roles that must be taken by Bean, who already drinks less to party and more to think about something.
When King Zøg (played by the hilarious John DiMaggio again) loses her mind after being buried alive (for too long), his daughter begins to care for both him and the kingdom. Not only does she have to deal with a conflict with her, not entirely sane mother, she is even forced to fight off an attack of rabid ogres (I really liked the reference to the Donkey Kong game here).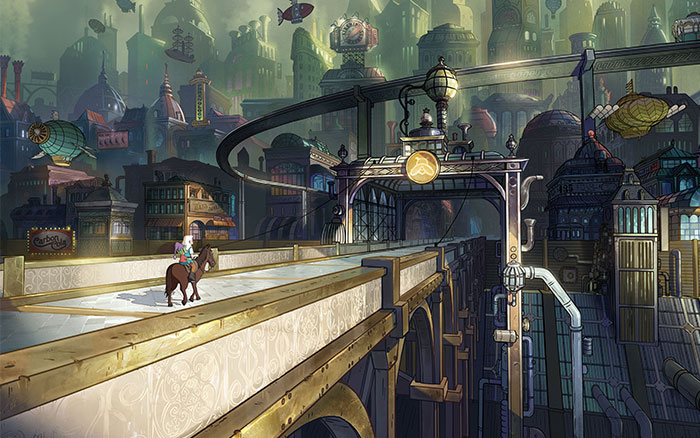 In addition, being in Steamland, quite by accident, for the first time in his life, he also goes to work! And in addition, in a factory where she is completely unable to find herself, like a helpless Disney princess. She is saved from trouble by her new friend Alva, voiced by Richard Ayoade (a very pleasant surprise!), An actor known, among others, for Magician Technicians .
From claustrophobic dungeons to wide seas
The third season of Disenchantment may not have delighted me with something special, but it is certainly quite interesting and varied. I especially liked the episode of Swine Business , where a little intelligent, self-centered prince shares the throne with a pig in human skin and together they try to get into their power (sounds familiar).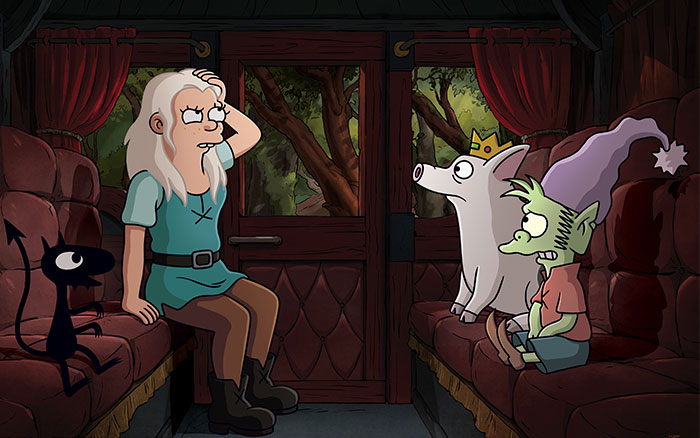 But I didn't like the end too much, because I don't like it when the action suddenly stops (like the head of one of the characters).