Since 2002, the Green Goblin has seemed like the most terrifying of Marvel's super villains. The demonic smile of mad Willem Dafoe has become for me an indicator of evil in popular culture. Today this comic character is back to spoil more blood for Spider-Man and his loved ones, but this time he is more powerful and… red?
A dangerous alliance
In the next volume of the Amazing Spider-Man series . A global network of murderous Norman Osborn searches for a way to regain his Green Goblin powers. Due to the genetic manipulation of his body, he cannot freely use his cruel alter ego. The villain, however, finds a solution by becoming the carrier of the Carnage symbiote, a cosmic creature even more dangerous than the famous Venom. As a result of this unexpected alliance, the Red Goblin is born – brutal, ruthless and even more powerful than his predecessor.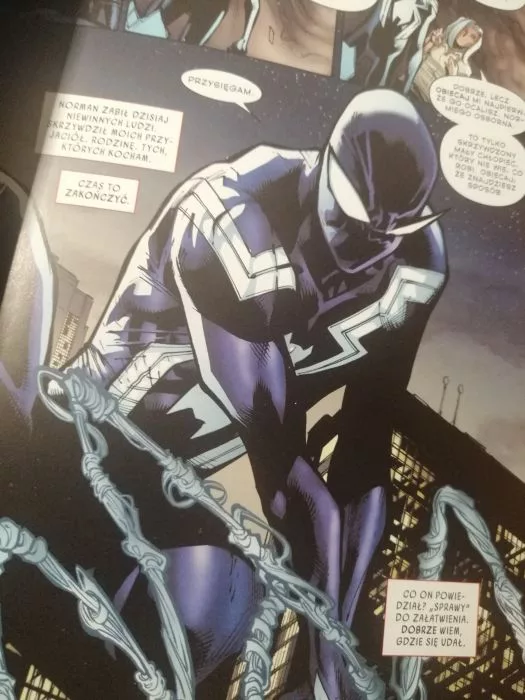 A new, dark style
I won't blame you, Osborn's character is really scary here. Madness is almost visible in this man's eyes; Applause deserves Stuart Immonen, drawer of notebooks numbers 797-799. His line is very distinctive and modern, the style is a bit like Japanese comics, less relying on old American patterns. It works best in action scenes, where Immonen perfectly traces the dynamic movements of his characters. I think that in the version of any other graphic, the Red Goblin would have made a completely different impression on me, probably much weaker. It is Immonen's work that makes the new version of Norman Osborn's alter ego terrifying. He kills, tortures, oppresses others and constantly pursues his goals, uninhibitedly murdering innocent people along the way. It is this last aspect of the character that is most shocking – although I am a fan of the Spider Man from an early age, I do not recall any civilians dying during his adventures. INTo walk away with a bang come scenes where a maddened Red Goblin without blinking an eye halves an unsuspecting New Yorker just to get Spider-Man's attention. I admit, my jaw dropped.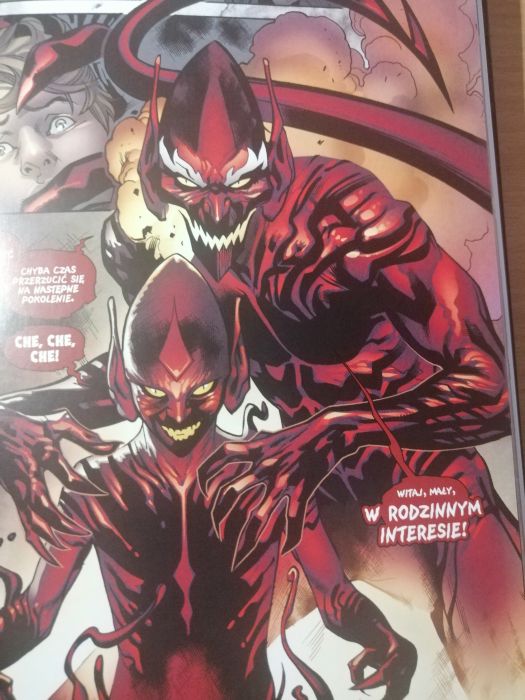 A tear in the eye is spinning
After the story of the Red Goblin ends, we have Notebook 801, a unique work created by cartoonist Marcos Martin under the direction of screenwriter Dan Slott. In addition to announcing another plot aimed at our friendly neighborhood hero, we'll read a unique story here. The story, composed of several chapters, tells us the fate of an average New Yorker who, thanks to Spider-Man's actions, managed to say goodbye to his dying father. Years later, the same man, Kenneth, helps the protagonist in the fight against a gang of Demons on the streets of the city. Well, the good is back, isn't it? The short and sentimental comic book ends with touching frames that convey the important wisdom to readers: "Every person is a world to someone." While reading this quote, I could almost hear in my head the famous music theme from the Spider-Man movies directed by Sam Raimi! The last story is a pleasant slowdown after the bloody tale of the Red Goblin, rushing ahead like the New York subway.
Who will we meet here?
Fans of comic books about Spider-Man will surely be pleased with the presence of an army of characters known from the universe that appear in Walk Away . J. Jonah Jameson is invariably upset (despite trying to help), Flash Thompson is a hero like no other, Harry Osborn is trying to save his family, Eddie Brock is surprisingly honorable (yes, we'll meet Venom here too!) And Aunt May falls into troubles. Apart from them, all spider heroes who owe Spider-Man will join the fight with the Goblin. The fight turns out to be very exciting, but I can't reveal too much. Let me just say that the Red Goblin is a really hard nut to crack, even for a whole squad of spider heroes.
Parker! Where's my pizza !? "
What am I missing here? Let me make a small comparison. In books and movies about Harry Potter, my favorite scenes are where young wizards simply learn. Scenes set at Hogwarts – this is the best term for the moments for which I love the JK Rowling series. It's the same with Spider-Man. I love Spider Man for his "normality" to other superheroes. Peter Parker has to work, study, care for a relationship, maintain relationships with loved ones and live like all of us. His actions do not focus on saving the world – as in the case of the Avengers – but on local, New York fights, even with ordinary pickpockets. In To Go With A BangI missed any scenes from the life of young Parker living in New York. But I try not to complain too much, after all, he had a formidable Red Goblin on his head.
How to read
Great story, beautiful drawings, but not enough "gray work" by Peter Parker. I recommend reading Leave with a bang to the beat of the soundtrack from the first Spider-Man movie trilogy. Well, as a last resort, the soundtrack from the recent PS4 game will also work. I don't know if other Spider Man fans have similar feelings, but for me, this hero will always be inextricably linked with the face of Tobey Maguire. Maybe it's just a childhood sentiment, but I don't see another Spider-Man anymore. I am waiting for the next volumes of the series to be published by Egmont and I hope that the high level of the plot will be maintained. Keep it up, Mr. Slott!