In the next part of the discussion, Mateusz, Krzysztof, Eliza and Michał talked about several key characters from the universe and believe us, some of them have become the source of a really hot dispute!
Michał: It cannot be denied that one of the most important characters in the series is the director of Hogwarts – Albus Dumbledore. How would you rate him as a mentor to Harry and the human being in general? In my opinion, it is the epitome of a true sage and pure, uncontaminated goodness. Of course, he had a rather confusing and tragic past, but that's what made him a better person and someone to be considered a role model. By the way, the author made his character much more realistic, more human, which makes it possible to identify with him even more and like him even more.
Eliza: I will not agree that Dumbledore is the epitome of pure, unadulterated goodness. He is undeniably one of the brightest characters in the series, but in the following parts of the series we learn that his original motives for action were dictated by sheer selfishness and a desire to exalt himself above other wizards. His behavior often makes Harry feel insecure and self-doubt. In fact, the Hogwarts Headmaster was "breeding" Harry, denying him all the truth and manipulating him, starting with taking away from him the opportunity to grow up among wizards so that he wouldn't become vain. Did he have the right to do so?
Many things Harry learns about his mentor after his death. Therefore, I believe that Dumbledore's intentions towards Harry were not entirely sincere. The image of the director's character evolves tremendously over the course of the books – as the Boy Who Lived learns more and more about him. We get to know him as an impeccably good person, and then it turns out that he is just like everyone else: driven by whims, making mistakes, disregarding his loved ones. Nevertheless, we forgive him, of course, because after all, everyone has the right to be wrong, and his actions were aimed at fighting evil. He only walked a little over the dead bodies to his goal. This is another lesson from Rowling: not everything is as it seems at first.
Mateusz: For me, Dumbledore is an example of an anti-hero who is guided by his goals instead of the good of others. I agree with Eliza that she has good intentions, but ultimately takes advantage of everyone around her. He breeds Harry, directs his fate from the back seat, so that he defeats Voldemort on his behalf. I wonder if he had any remorse.
Najgorsze jest jednak to, co wyrabiał ze Snapem. Latami zwodził go, zmuszał do działania wbrew sobie i najgorszych czynów, takich jak przeprowadzenie własnego morderstwa/samobójstwa, samolubnie wykorzystując do tego miłość Severusa do Lily Potter i jego chęć ochrony Harry'ego. Sam przy tym unikał konfrontacji z Voldemortem, choć był jedynym czarodziejem, który mógł stanowić dla niego wyzwanie. Podobny wątek obserwujemy też w drugiej części Fantastycznych zwierząt, kiedy przyszły dyrektor Hogwartu wysyła Newta, aby spróbował powstrzymać Grindelwalda.
Krzysztof: Wizerunek Dumbledore'a znacząco zmieniał się z tomu na tom. Kilkukrotnie zresztą zastanawiałem się, ile z tego Rowling planowała dla jego postaci na etapie pisania Kamienia Filozoficznego czy Komnaty Tajemnic, a ile pomysłów i zwrotów zrodziło się w jej głowie dopiero później, w miarę rozwoju fabuły. Przez większość czasu oglądamy go oczami Harry'ego, dla którego na początku jest właśnie nieskazitelnie dobrym mędrcem. To  w końcu poczciwy, lekko zwariowany dziadek, który wyrwał chłopca z przykrej pułapki domu Dursleyów. Mamy poczucie, że dyrektor jest niemal nieomylny, wie jeszcze więcej, niż wydaje się na pierwszy rzut oka, a także roztacza wokół siebie aurę niezachwianego bezpieczeństwa –w końcu w pierwszym tomie siły zła czekają z atakiem, aż Albus opuści szkołę.
Później ten wizerunek zaczyna się chwiać. Stary czarodziej nie radzi sobie z bazyliszkiem, okazuje się bezsilny wobec Ministerstwa, które najpierw umieszcza mu w szkole Dementorów, a później znienawidzoną Umbridge, otwarcie występując przeciw niemu. Coraz mniej w nim z ikony, a więcej z człowieka. Kolejne informacje o jego przeszłości i metodach walki z Voldemortem również rzucają na niego coraz więcej cieni. Przestajemy mieć pewność, kim właściwie jest, i czy my – oraz oczywiście Harry – słusznie uczyniliśmy, ufając mu bezgranicznie i wierząc w tę fasadę dobroci i nieomylności. Myślę, że nie da się go jednoznacznie ocenić, a Eliza i Mateusz słusznie zauważyli, że jak na bohatera tak potężnego i obdarzonego przenikliwym umysłem, podejrzanie często unika on bezpośrednich konfrontacji i w ten czy inny sposób wysługuje się swoimi sprzymierzeńcami, nie mówiąc im przy tym całej prawdy. Takichakich zagrywek spodziewalibyśmy się raczej po antagoniście, prawda?
Michał: Doprecyzuję może moją opinię – miałem na myśli, że Dumbledore koniec końców stał się ucieleśnieniem dobra, a nie, że zawsze taki był. Zgodzę się z wami wszystkimi, że popełniał on po drodze wiele błędów (do czego zresztą sam przyznaje się podczas rozmowy z Harrym w tzw. limbo w Insygniach Śmierci), ale według mnie właśnie to czyni go jeszcze bardziej ludzkim, bo jednak omylnym. Być może nie jest postacią kryształową, ale wszystkim jego działaniom przyświeca nadrzędny cel, dzięki któremu przywraca równowagę w świecie czarodziejów.Myślę, że to usprawiedliwia wszelkie jego potknięcia i błędy, jakie popełnia po drodze. No i, jak zwróciła uwagę Eliza, to również jest coś, z czego możemy wyciągnąć wnioski.Choć ja lekko przeformułowałbym jej stwierdzenie na takie, że wielka mądrość zawsze naznaczona jest cierpieniem i błędami popełnionymi w przeszłości.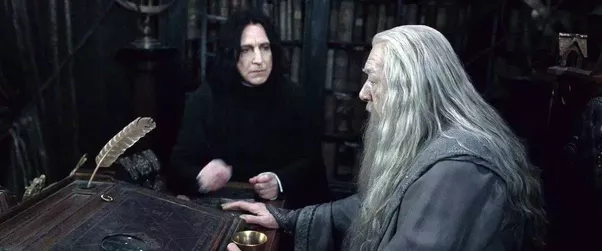 Eliza: Bardzo ciekawe jest to, co napisał Mateusz o relacji Dumbledore'a ze Snapem. Rzeczywiście, Snape musiał tańczyć, jak mu dyrektor zagrał. Albus wykorzystywał go do realizacji własnych celów na każdym kroku. Być może miało to być dla Snape'a formą odkupienia dawnych grzechów, ale znowu – dlaczego Dumbledore stawia się w roli wyroczni moralności, kiedy sam nie zawsze postępuje moralnie?
From what Michael writes, it follows that the end justifies the means – if it is noble, you can sacrifice a few lives. I do not agree with that. Even in the Order of the Phoenix, no one knew all of Dumbledore's plan, everyone just trusted him and followed his orders. They knew they were risking their lives, but that doesn't change the fact that Dumbledore only admitted to himself the right to decide the fate of the wizarding world. This is, in my opinion, highly self-centered. And of course I agree that that makes him more human. Only at the same time takes away from him the image of a good-natured old man.
Well, but I have to admit one thing. I criticize his actions so ruthlessly and I regret many things, but after his death I shed many tears …
Mateusz: Unlike Eliza, I did not shed any tears, because finally his character after the Order of the Phoenix became more episodic than actually influencing the plot. It was more emotional to say goodbye to Sirius, giving up his life in Harry's defense. For me, Dumbledore, by committing suicide (or euthanasia with the help of Snape) did what he always did, i.e. transferred the problem onto the shoulders of others.
Krzysztof: Yes, here I completely agree with Mateusz. Somehow I didn't feel sorry for Dumbledore, and the way he left did not solve anything, but only burdened many people with various unpleasantness. Draco and Snape felt guilty, and Harry and the team had to feel the case in the dark – after all, the director did not play open cards with anyone. About the whole school, which for a year fell into the hands of Death Eaters, not to mention. I was also more sorry for Sirius, Remus with Nymphadora, or even Dobby.
Eliza: Oh yes, I felt much more sorry for the heroes you mentioned, and I couldn't come to terms with the death of Sirius for a long time. And I also think that Dumbledore has not solved anything like this. I shed those tears perhaps more because of Harry, for whom Dumbledore was a kind of guardian and who, in this sense, was again orphaned. In the end, it is as you write: it changed nothing. But it was such a symbolic moment for me as Harry entered adulthood and became independent.
Michael:I do not agree with Matthew's statement that Dumbledore simply shifted the problem onto the shoulders of others. Don't forget that the Headmaster of Hogwarts was cursed by touching Marvol Gaunt's Horcrux Ring, so his death was imminent anyway. On the other hand, by planning his death with Snape, he not only wanted to avoid suffering, but at the same time he wanted to lead – and this is the most crucial thing in the context of their relationship – to the loss of Black Wand's power, making it no longer a threat and no one (in thus Voldemort himself) could not use it. On a different note, Dumbledore did not foresee that Malfoy would disarm him first, thus formally defeating him and unknowingly becoming the new master of the Scepter of Death. if Dumbledore had kept a cool head at the time of finding the Ring and had not tried to use the then enchanted Resurrection Stone that was part of it, but was he able to foresee everything and not succumb to ordinary human emotions and the desire to see his whole family again? In my opinion, this is one more proof that he is a figure full of humanity, with whom we can identify, but also at times evoking sympathy.