Egmont od dłuższego czasu rozpieszcza fanów komiksów. Zadowoleni mogą być zwłaszcza miłośnicy Marvela. Wydawcy postanowili bowiem zebrać najbardziej klasyczne przygody superbohaterów i wydać je w serii Epic Collection. Pierwszy tom to przygody Spider-Mana, wydawane pierwotnie w latach 1986-1987.
Egmont has been spoiling comic book fans for a long time. Marvel lovers in particular can be pleased. The publishers have decided to collect the most classic superhero adventures and publish them in the Epic Collection series . The first volume is the Adventures of Spider-Man, originally published in 1986-1987.
Part one
Although we are dealing with a comic entitled Amazing Spider-Man: The Last Hunt of Kraven , we will find in it not only the struggle of the Spider with the legendary Hunter, but many other, very important events in the life of Peter Parker. In fact, the mentioned hunt is only a quarter of the album. At the very beginning, we get a short adventure in which the title character struggles with Arno Stark, i.e. Iron Man from the future. Later, however, we begin a whole sequence of events, during which Spider-Man goes to Berlin to meet Wolverine there, returns to America, makes a deal with Kingpin, discovers Hobgoblin's identity, fights Spider-Killer, proposes to Mary Jane and, most importantly for him, he marries her!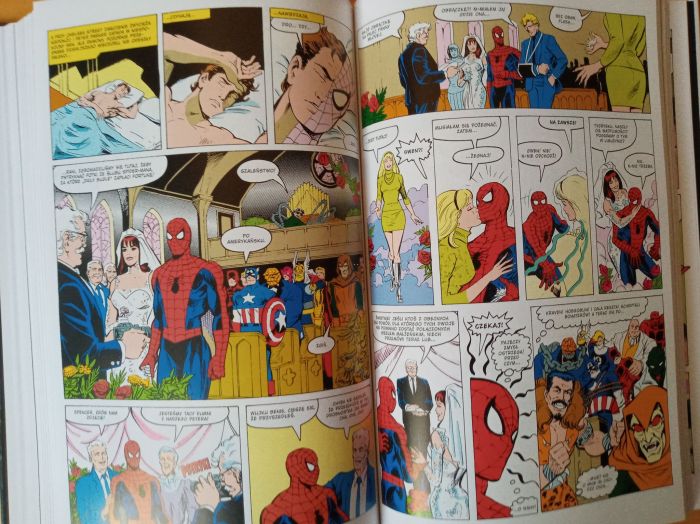 It's so 80's!
On Amazing Spider-Man: Kraven's Last Hunt składa się album liczący 467 stron i zawierający kilka różnych komiksów. Nie ma więc jednego autora czy rysownika. Wśród tych, którzy tworzyli przygody Pajączka wspomnieć należy takich scenarzystów jak Ken MacDonald, David Michelinie, James C. Owsley, a wśród rysowników znajdziemy Marka Beachuma, Jima Ferna czy Marka Brighta. Wszyscy oni dali nam zeszyt, który nawet bez podawania dat na okładce, umiejscowilibyśmy właśnie w latach 80. Sama fabuła jest ciekawa, ale momentami dostaje kilka zbędnych momentów. Przykładowo atak Spider-Zabójcy wprowadzony jest tylko po to, aby przedłużyć moment pomiędzy oświadczynami Petera, a odpowiedzią Mary Jane. Teoretycznie ma on pomóc bohaterom zrozumieć, jak bardzo im na sobie zależy, ale w rzeczywistości wystarczyłoby to, jak nasz bohater pomaga ukochanej w trudnej sytuacji rodzinnej. Nalot tamtego okresu jest bardziej widoczny w sposobie prowadzenia narracji. Cały czas dostajemy ramki opowiadające nam o tym, co aktualnie dzieje się w kadrze. Często pojawia się też to, co miało miejsce dosłownie kilka stron wcześniej. Same postaci także informują nas nieustannie o swoich zamiarach i towarzyszącym im emocjach. Wszystkie myśli, nawet postaci drugo- czy trzecioplanowych, pojawiają się w dymkach nad ich głowami. Nie ma praktycznie fragmentu, w którym nie pojawia się żaden napis. Na szczęście nie jest to irytujące. Dla jednych będzie rzeczą nostalgiczną, dla innych zabawną. Wszyscy jednak musimy stwierdzić, że mamy do czynienia z kawałkiem historii komiksów i zobaczyć możemy, jak bardzo zmienił się pomysł na tworzenie kolejnych tomów.
Klimat sprzed lat jeszcze bardziej widoczny jest w stylu rysowania. W tamtym okresie komiksy trafiały przede wszystkim do młodszych odbiorców. Dlatego też są one nieco ugrzecznione, choć w dość dziwaczny sposób. Wolverine wpada bowiem w szał i zabija kolejnych wrogów, złoczyńcy zabijają się z broni palnej, ale nigdzie nie zobaczymy choćby kropli krwi. W wielu przypadkach ukazany jest podczas popełniania zabójstwa, a później widzimy już leżącego na ziemi trupa. Są nawet fragmenty, w których ukazany zostaje wisielec dyndający jeszcze na szubienicy. Taki obraz jest najwyraźniej w porządku, ale kropla krwi byłaby już niezbyt stosowna. Inną charakterystyczną rzeczą jest częsty brak tła. Czasem widzimy w kadrze zarys jakiegoś budynku czy bardzo uproszczony schemat mieszkania. Najczęściej jednak za postacią ukazana jest ściana, kawałek muru, ogrodzenia czy nieba w jednolitym kolorze. Zdarza się nawet, że bohater ukazany jest po prostu w pustym kadrze. Barwy także są często ograniczone i na kolejnych stronach zobaczymy tylko kilka z nich. Aby nie wyglądało to dziwnie, rysownicy sięgają do rozwiązań, gdzie scena jest mocno oświetlona, z nieba leje deszcz lub jest ciemno. Dodajmy do tego wszystkiego samą kreskę. Jeśli oglądaliście kreskówki z lat 60. i 70. (w tym słynnego Spider-Mana) to właśnie w takim stylu tworzony jest ten album. Ale tu nie ma nic dziwnego. W końcu w wielu przypadkach oglądamy prace tych samych artystów.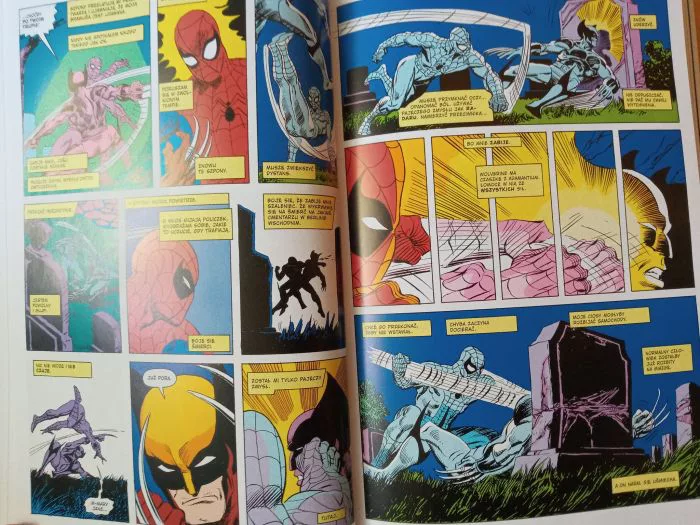 Część druga
Tytułowe Ostatnie łowy Kravena rozpoczynają się po przeczytaniu ponad 300 stron komiksu. Jeden z głównych wrogów Spider-Mana, Sergei "Kraven" Kravinoff, umiera. Przed śmiercią zamierza jednak odzyskać utracony honor. W tym celu pragnie złapać naszego Pająka, a następnie wcielić się w niego i pokonać innego z jego przeciwników, aby dowieść tym samym, że jest równie potężny jak superbohater. Wymyślone przez niego zadanie wcale nie jest jednak tak proste.
Widoczne różnice
Przechodząc od Ślubu do Trumny nawet mniej uważni czytelnicy od razu dostrzegą zmianę stylu zarówno fabularnego jak i artystycznego. Tę część zeszytu przygotowali dla nas Jim Shooter i Paul Ryan. Już na pierwszy rzut oka widoczne jest, że bliżej im do stylu, którym w latach 90. zaskoczy nas Todd McFarlane, niż do nieco dziecięcego stylu swoich poprzedników. Przede wszystkim atmosfera jest tu bardziej ponura i gęsta, a praktycznie wszyscy najważniejsi bohaterowie mają tu spore problemy z psychiką. Ich wizje, halucynacje, urojenia i myśli momentami wręcz przerażają. Dodatkowo my także mamy usłyszeć szepty pojawiające się w ich głowach. Przedstawienie myśli nie ma na celu jedynie wykładanie nam wprost co i kto szykuje. Ma ono wywoływać w nas niepokój i konsternację. Niemal do samego końca nie wiemy co wymyślił i co zamierza Kraven. Z kolei strach Spider-Mana, zarówno przed śmiercią jak i o los niedawno poślubionej Mary Jane, jest wręcz namacalny. Do tego wszystkiego dochodzi postać Vermita – hybrydy szczura z człowiekiem, który porywa do kanałów ludzi i zjada ich na naszych oczach. Dopełnieniem jest z kolei nieustająca burza, pioruny i deszcz, a także kadry przedstawiające mężczyznę kopiącego grób. Więcej jest także scen, gdzie postaci nic nie mówią, a zmagają się z własnymi lękami. Finał tego wszystkiego jest również mroczny, ale i niesamowity. Nic więc dziwnego, że to Kraven's Hunt became the notebook's title and overshadowed even the wedding of Peter and his lover.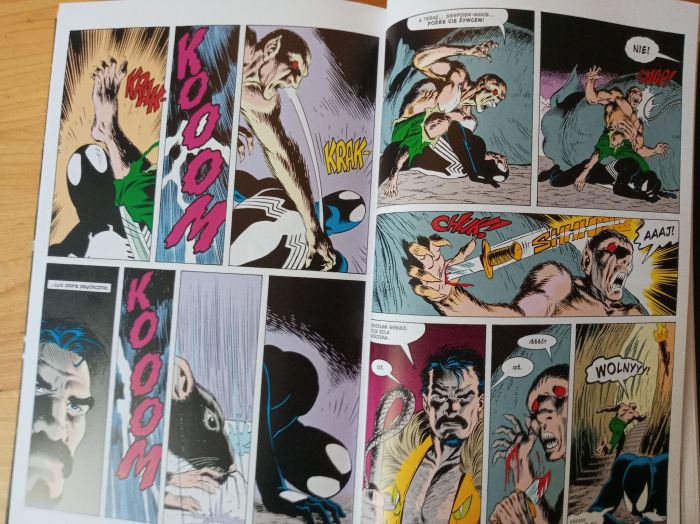 Egmont knows what he is doing!
Chwaliłem już wydawnictwo przy okazji niedawnego wydania Daredevil: Nieustraszony! tom 0. I zamierzam doceniać znów. Ponownie dostajemy piękne wydanie w twardej oprawie, w którym zebrano najważniejsze przygody Spider-Mana. Jednak to oczywiście nie wszystko. Słowo wstępu po raz kolejny kieruje do nas Kamil Śmiałkowki i wyjaśnia nam genezę powstawania kolejnych zeszytów z serii Epic Collection i historii z Człowiekiem-Pająkiem w roli głównej. Oprócz tego wewnątrz znajdziecie oryginalne okładki, rozpoczynające poszczególne numery, a także dodatek w postaci krótkiej opowieści o ślubie Petera i Mary Jane, zawartej pierwotnie w Peter Parker, Spectacular Spider-Man.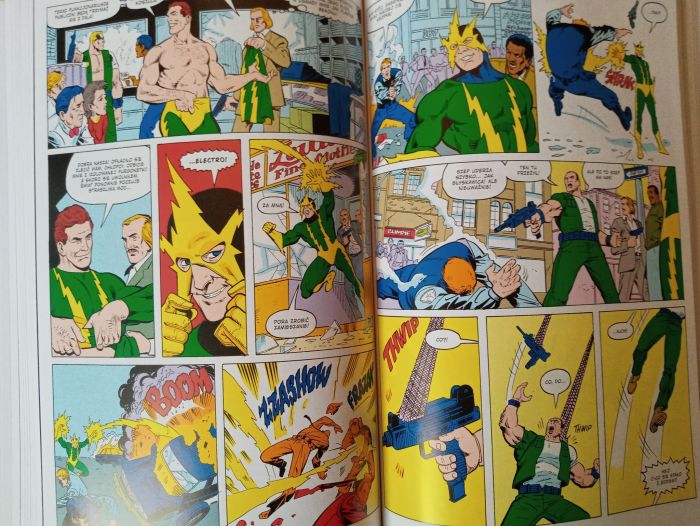 Gratka dla kolekcjonerów
Amazing Spider-Man: Ostatnie łowy Kravena to pierwszy zeszyt z serii Epic Collection, który ukazał się w naszym kraju. Mamy w nim okazję cofnąć się do lat 80. i prześledzić losy Petera i jego przyjaciół oraz wrogów. Przy okazji zobaczymy, jak zmieniały się style tworzenia przygód superbohaterów u Marvela Jednocześnie należy dodać, że jest to album prawdziwie kolekcjonerski i być może osoby dopiero zaczynające swoją przygodę z komiksem nie będą nim zachwycone. Zdecydowanie różni się on od tych współczesnych. Tłumaczenie każdego ruchu postaci, brak tła i mała paleta kolorów może zniechęcić. Ale tak właśnie kiedyś to wyglądało. Jest to więc prawdziwy klasyk, którego nie sposób ocenić.