As of 2019, Marvel Studios fans had virtually nothing new to watch, which was largely dictated by the pandemic. Fortunately, that has changed with the development of the latest Disney + streaming platform and a new idea for series Set on Earth-199999.
About how Wanda got her five minutes
Why did Marvel's policymakers decide WandaVision will be the first official series from the MCU to kick off Phase IV? In fact, it was a coincidence, because the first series was supposed to be Falcon and the Winter Soldier,jednakże problemy związane z pandemią Covid-19 lekko pozmieniały plany. Wyszło to jednak na dobre, bowiem jak się okazuje, recenzowany przeze mnie serial na nowo prezentuje znany nam dobrze świat, w dobie postkryzysowej, wywołanej starciem z Thanosem. Poza tym, kwestie związane z przejęciem praw do Mutantów, musiały wywołać pewną reakcję na ekranie, aby nawiązać do obecnej mutantki Wandy Maximoff z ekranowego składu Avengers. Dobrze czytacie, w tym serialu znajdziecie podpowiedź na temat pomysłu włodarzy Marvela jak zaimplementować nowe postacie, a przy okazji kontynuować dawną wizję swojego uniwersum.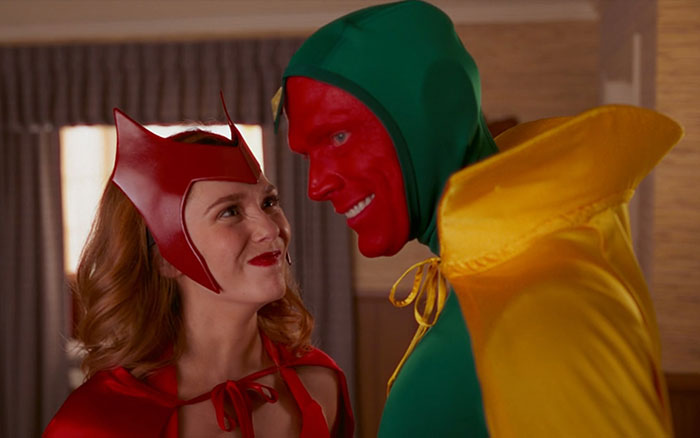 Jednak o czym generalnie jest serial? To zupełnie nowa opowieść, której jeszcze nie było w świecie trykociarzy Marvela. To swoista pudełkowa opowieść, prezentująca nam narrację w narracji. Mamy do czynienia z zabiegiem różnych form serialowych, stanowiących hołd dla dziejów amerykańskiej telewizji, począwszy od lat 50., a skończywszy na współczesności. Kiedy jednak przyjrzymy się bliżej, to zobaczymy, że to przede wszystkim opowieść o tym, jak ciężka jest strata drugiej osoby i w jaki sposób przeżywamy żałobę po niej. Trauma z powodu utraty bliskiej osoby jest chyba jeszcze bliższa widzom, niż normalnie, co wynika z czasów pandemicznych, w których przyszło nam żyć.
Mieszanie stylów
Zmiana tonacji z odcinka na odcinek zdecydowanie służy WandaVision. Odwoływanie się do sitcomów, jest wyjaśnione w przedostatnim odcinku, niemniej jednak stanowi istotny element ukazania zabiegu radzenia sobie z bólem po śmierci ukochanej osoby.
Tak skonstruowana fabuła wymusiła na Elizabeth Olsen odnalezienie zupełnie nowych pokładów emocji w swojej postaci. Przez to Olsen udowodniła, że jest doskonałą aktorką z ogromnym potencjałem. Widać zmienne nastroje Wandy, odpowiadające tonacji każdego następnego epizodu.
O ile Paul Bettany zagrał poprawnie i nie odszedł zbytnio od tego, do czego zdążył nas przyzwyczaić podczas seansów w salach kinowych z okresu przed covidowego, o tyle chciałbym pochwalić też nową aktorkę. Kathryn Hahn – mająca łatkę komediowej aktorki, od samego początku tworzyła kogoś na wzór "wścibskiej sąsiadki" udowodniła, że potrafi w odpowiednim momencie zmienić swoją postać o sto osiemdziesiąt stopni. Jej postać – Agnes wprost bryluje na ekranie, a miejscami fani proszą o to, by poświęcić jej więcej czasu antenowego, niż ckliwym słowom Wandy i Visiona.
Podczas seansu pojawią się też poboczne postacie z takich filmów, jak Thor: Mroczny Świat, Ant-Man i Osa, czy Kapitan Marvel. Czemu ma to służyć? Według mnie temu, żeby skonfundować odbiorcę, a jednocześnie ukazać, że nauka, mity i nieodkryte światy mogą istnieć razem, co sprawia, że świat Marvela na dużym i małym ekranie nie przestaje nas zachwycać.
Kilka problemów
Czy znajdziemy tutaj głównego antagonistę? I tak i nie. Nie do końca wiadomo, kto jest głównym złolem w serialu, co tylko zachęca do śledzenia kolejnych odcinków i budzi poczucie niepewności, czy przypadkiem negatywnym bohaterem nie jest sama Wanda. Kiedy wszystko zaczyna się rozwiązywać, poznajemy głównego przeciwnika, który naprawdę świetnie ukrywał się przed okiem widza od pierwszych minut tego serialu. Niemniej jednak, wraz z ostatnimi kadrami nasz główny złol traci całą swoją charyzmę, a jego motywy wydają się tak oczywiste, że aż nudne.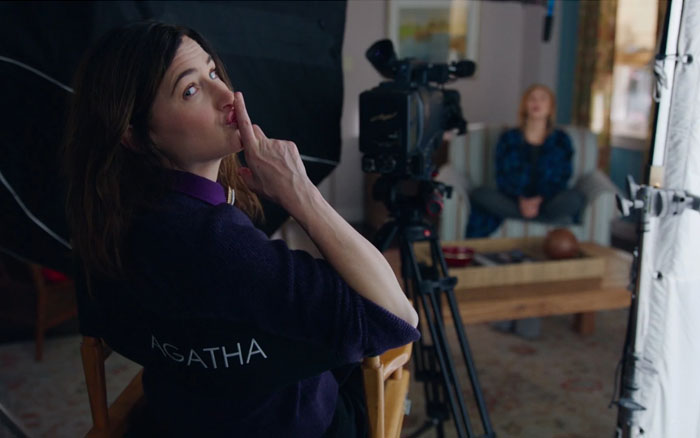 Poza tym mamy kilku pomniejszych wrogów naszej Szkarłatnej Wiedźmy. Pojawia się też bohater znany z komiksowego składu West Coast Avengers. Jednakże, o ile moment pojawienia się tej postaci na ekranie jest naprawdę w punkt, to potem okazuje się, że tak naprawdę nikt nie miał pomysłu co z nią zrobić dalej. Wielka szkoda! Chyba, że mają co do niej inne plany, a tego dowiemy się w niedalekiej przyszłości.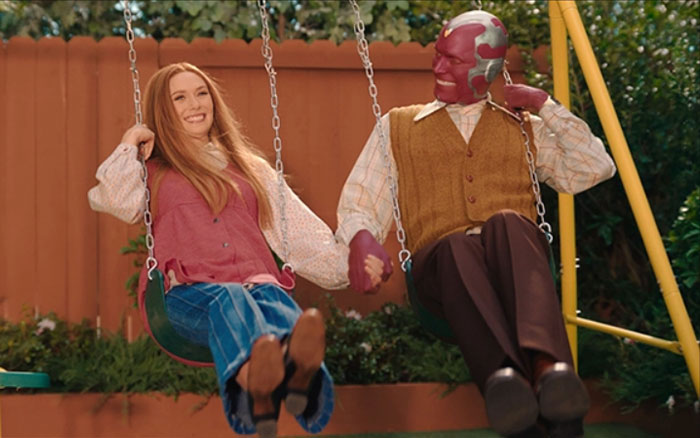 Ostatnia kwestia. Fani dubbingu oraz polskich napisów, będą niepocieszeni. Serial ten nie jest dostępny w języku polskim. O ile Mandalorianina, czy większość produkcji oryginalnych obejrzymy na Disney + po polsku, to tego tytułu niestety nie. Mam nadzieję, że ulegnie to jednak zmianie, wraz z wejściem tej platformy streamingowej do Polski.
Podsumowanie
Pierwsze odcinki potrafiły mnie lekko znużyć (pomimo wywoływania pytania w mojej głowie: o co chodzi z tą zmienną stylistyką?), jednakże druga połowa tego serialu wciągnęła mnie bez reszty, oczywiście bez kilku momentów w ostatnim odcinku. WandaVision to naprawdę udany serial, mimo kilku potknięć fabularnych. Na pewno stanowi dobre otwarcie serialowego skrzydła MCU. Jeżeli twórcy wyciągną dobrą lekcję ze swoich błędów, to śmiem twierdzić, że w przyszłości Marvel może zdetronizować też DC, jeśli chodzi o gałąź serialową.