Neil Gaiman has created many intriguing and amazing stories. Do the same stories in the comic still delight?
Comic book design
Historie prawdopodobne dzielą się na cztery części (Historie prawdopodobne; Tylko kolejny koniec świata, nic więcej; Studium w szmaragdzie; Problem Zuzanny i inne opowiadania). Mamy dwa dłuższe opowiadania oraz zbiór niezwiązanych ze sobą historyjek. Najciekawsze jest jednak to, że za każdym razem mamy do czynienia z innym scenarzystą i rysownikiem. Na końcu tomu zamieszczono też szkicownik, który jest bardzo przyjemnym dodatkiem. Od razu wspomnę tylko o największym rozczarowaniu, a mianowicie… na okładce pojawił się świetny kadr z wilkiem popijającym jakiś napój, ale jak się okazuje, ta scena nie ma nic wspólnego z zawartością Historii prawdopodobnych.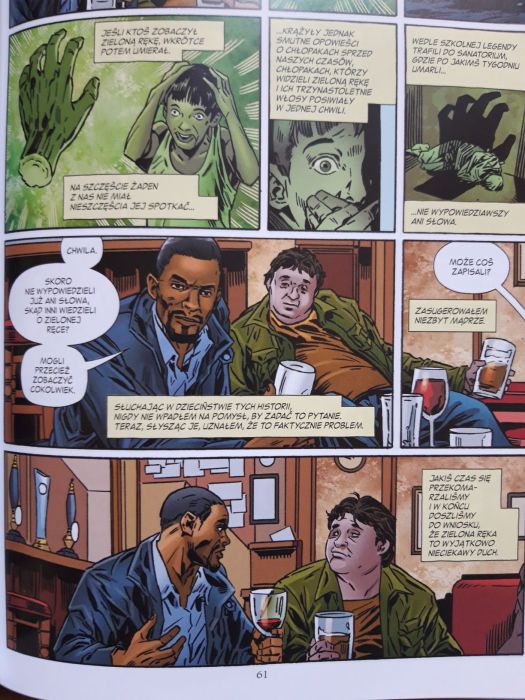 Historie (nie)prawdopodobne
Tytułowa część zbioru zaczyna się od przedstawienia klubu, w którym ludzie zazwyczaj piją i opowiadają różne historie. W tym przybytku pijaństwa dochodzi też czasem do dziwnych zdarzeń. Mamy cztery opowieści, które mniej lub bardziej związane są z klubem, a zarazem są samodzielnymi rozdziałami. Bardzo mi się podoba ten motyw. Podczas czytania miałem wrażenie, jakbym faktycznie przysłuchiwał się klientom snującym swoje opowieści. Najgorzej prezentuje się Poczucie obcości, dlatego że najmniej łączy się z motywem przewodnim. Jest raptem kilka kadrów wskazujących, że protagonista odwiedził to miejsce, ale nawet nie wiemy, kto przedstawia nam jego historię i dlaczego. Najlepiej wypadają Karmiący i karmieni oraz Pora zamykania, bo to intrygujące horrory, w których znalazło się sporo miejsca na niedopowiedzenia.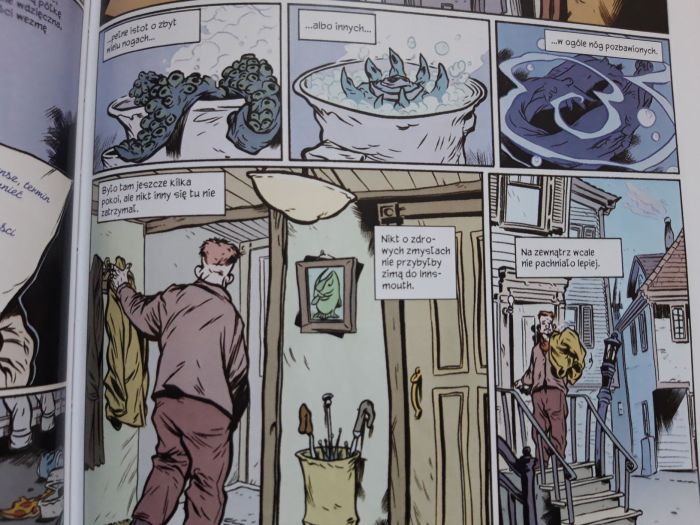 Wilkołak i Cthulhu
Tylko kolejny koniec świata, nic więcej to bardzo intrygująca historia, albowiem głównym bohaterem jest wilkołak. Poznajemy go, gdy zwraca resztki wczorajszej kolacji. Muszę przyznać, że to nietypowy pomysł na przedstawienie protagonisty, ale – jak się okazuje –  całkiem udany. W tym pięćdziesięciostronicowym opowiadaniu podoba mi się szczególnie groteskowa kreska. Twarze bohaterów są niekształtne i brzydkie, a przy tym intrygujące. Spowodowane jest to zapewne tym, że akcja toczy się w Innsmouth. Mitologia Cthulhu Lovecrafta plus morderczy wilkołak równa się oryginalna i wciągająca historia.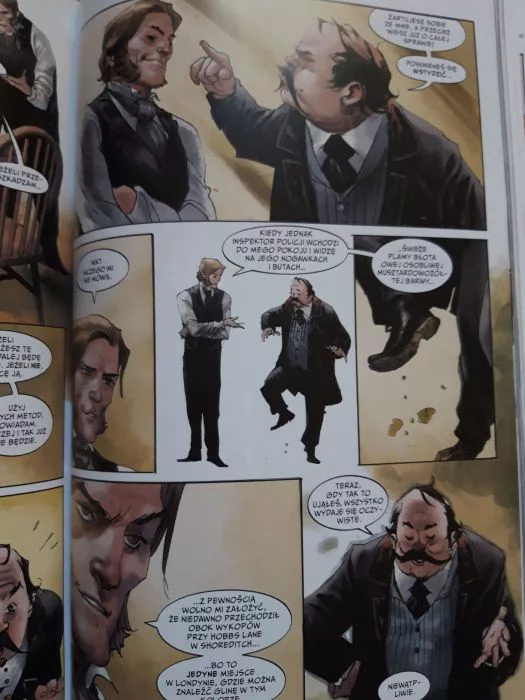 Gra planszowa, książka i komiks, czyli Studium w szmaragdzie
Studium w szmaragdzie to niewątpliwie największa perła tego zbioru. Jest to wyjątkowe połączenie uniwersum Sherlocka Holmesa z mitologią Cthulhu. Mamy zatem detektywa i jego wiernego pomocnika, a także Przedwiecznych i śledztwo w sprawie morderstwa. Bardzo spodobało mi się opowiadania i naprawdę nie spodziewałem się, że tak wciągnie mnie komiks bazujący na tym dziele. Co prawda znałem wszystkie wątki, ale i tak z wielkim zaciekawieniem podążałem śladami bohaterów. To tylko utwierdziło mnie w przekonaniu, że scenarzyści wykonali kawał dobrej roboty. To samo zresztą mogę powiedzieć o oprawie graficznej. Bardzo dobrze wypadają główni bohaterowie, a szczególnie spodobał mi się inspektor Lestrade. Dodam jeszcze, że dodatki znajdujące się pomiędzy rozdziałami są genialne, bo przedstawiają reklamy intrygujących produktów, w tym choćby Proszki Jekylla!

Pozostałe opowieści
Niestety nie wszystkie historie okazały się równie dobre. W moim odczuciu najsłabiej wypada Problem Zuzanny. Nie tylko fabuła czy bohaterowie nie przypadli mi do gustu, ale też oprawa graficzna. O wiele lepiej prezentuje się Październik w fotelu. Mamy tu nawet nawiązanie do tytułowego zbioru, bo tym razem osoby, będące upersonifikowanymi miesiącami, opowiadają sobie nawzajem historie. Przedstawiona historia intryguje, choć szkoda, że nie została ona bardziej rozbudowana. Zwrócić uwagę warto również na rozmyte barwy. Kadry przedstawiające naturę wypadają wprost genialnie. Na końcu zamieszczono bardzo przyjemny utwór liryczny zatytułowany Dzień, w którym przyleciały spodki. Połączenie poezji z komiksem wypada zadziwiająco ciekawie.
Czy Neil Gaiman stworzył porywające historie?
Historie prawdopodobne to świetny zbiór komiksów na podstawie twórczości Neila Gaimana. Co prawda nie wszystkie mi się spodobały, ale już sama obecność Studium w Szmaragdzie znacznie podwyższa wartość tego tomu. Tylko kolejny koniec świata i nic więcej, Październik w fotelu, Karmiący i karmieni oraz Pora zamykania to kolejne bardzo udane opowieści. Ponadto uwielbiam, gdy w jednym zbiorze mogę podziwiać pracę różnych rysowników, a tu naprawdę jest na co popatrzeć. Niewątpliwie była to ciekawa przygoda i chętnie jeszcze wrócę do tego tomu.