A cardboard box as yellow as sand hid a premature gift from St. Nicholas. After a rather one-sided fight with fillers, I managed to dig into a real treasure - the packaging with the HyperX Alloy Origins keyboard (in the BLUE version). The whole thing is signed with the HyperX and Intel Extreme Masters logos, the Pro League of Rainbow Six: Siege and the Cloud9 and NAVI teams, which is to emphasize how much the top equipment has landed on my lap.
Great unboxing
After opening, I was impressed with the solidity of the structure. HyperX Alloy Origins, not used to mechanical keyboards, will surprise you with its weight (approx. 1 kg), and the cold metal casing makes even unconnected equipment look elegant on the table. The body is made of aviation aluminum, which is to provide the keyboard with unmatched durability. The detachable USB Type-C cable is coated with a pleasant material that makes the user understand that it is a really high-end equipment. The keyboard is compatible with computers, PS4 and Xbox One * consoles, and has built-in memory for three profiles configured in the HyperX NGENUITY program. In addition, there is a game mode (the ability to disable shortcuts such as alt-tab or alt-F4), full anti-ghosting and N-key rollover, which in practice means, that we can click a lot of buttons at the same time **. The life of the keyboard switches is estimated at 80 million strokes, so no one is likely to need hardware replacement soon. ***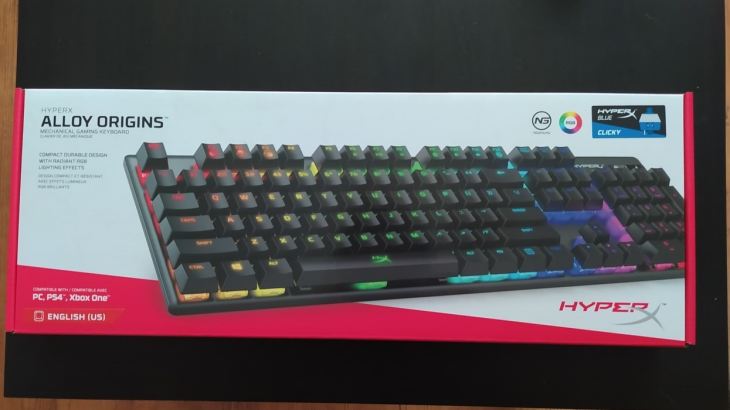 In a fraction of a second from connecting to a computer, the keyboard is flooded with a wave of colors that positively resembles Christmas lights – Santa Claus is full of mouth. The magic of the holidays is broken only when we go to the configuration using the HyperX NGENUITY program.
Not so Ingenious
I had the overwhelming impression that the setup was much more complicated than it should have been. HyperX NGENUITY is … average. I don't think it's bad – it gives you all the keyboard customization options that a basic user can dream of, as long as they find themselves in unintuitive settings. Compared to popular programs with drivers offered by, for example, Radeon, NGENUITY looks pale. The first dozen or so minutes of getting to know the program was an unequal fight, especially that the presets downloaded from the official NGENUITY website (!) In the colors of e-sports teams (Cloud9, Team Dignitas and Echo Fox) decided as one man not to cooperate with the program – ups ****. After that, I didn't even want to explore additional possibilities, such as creating macros.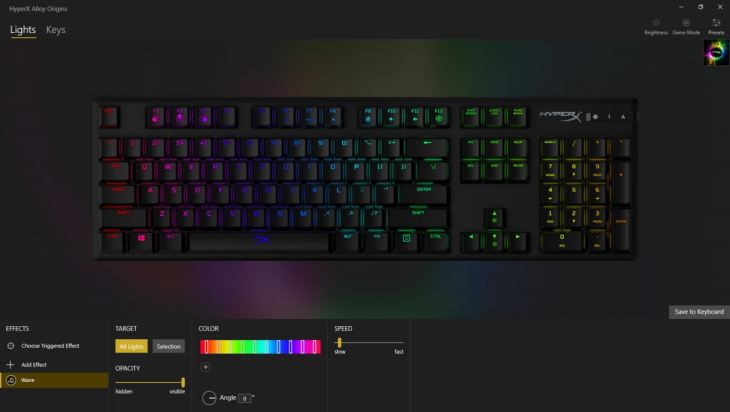 Fortunately, after finally finding yourself in the settings, you can create your own dream keyboard – there are a dozen visual effects, in addition, you can set them separately for individual buttons. The possibility of such an extensive configuration is also fantastic information for those who have too few pads at home – you can create and associate with the game a preset that would highlight only selected keys. It is time-consuming, but practical – at least I will not fool myself that the girl is beating me in the age-old Injustice: Gods Among us only because I gave her the only pad in the house and I do not know the keyboard layout.
Gametime
As you can guess, the keyboard is great for all games – after all, this is its main task. Whether it's an FPS, MOBA, or any other production that requires the help of a keyboard – clicking with the HyperX Alloy Origins is very pleasant, the buttons move lightly, which contrasts with the weight of the equipment. The keyboard passed the CS: GO combat tests with flying colors – it is known that most of the work is done by the mouse, but after many hours of session I was satisfied with the "click" that HyperX Alloy Origins has, so I had no problems with running, leaning around corners or precise jumping. The built-in legs, which can be placed in three ways – 3, 7 and 11 degrees, also help to achieve comfort.
Man does not live by playing alone
HyperX Alloy Origins also works well for home tasks. The layout of the buttons is standard in a good sense – switching to the keyboard did not cost me any additional typos during my daily work. HyperX Alloy Origins is available in three variants of switches – in the BLUE version I tested, the more sensitive ones may complain about the space, which is a bit too high. As a result, typing with the side of the thumb after thousands of strokes can be quite a painful experience for people not used to keyboards with such high buttons. I suspect that a suitable palm rest would eliminate this discomfort. I also do not recommend this version to night owls – characteristic clicking sounds can be heard throughout the apartment, and some household members (especially those living in studios) may make it difficult to fall asleep.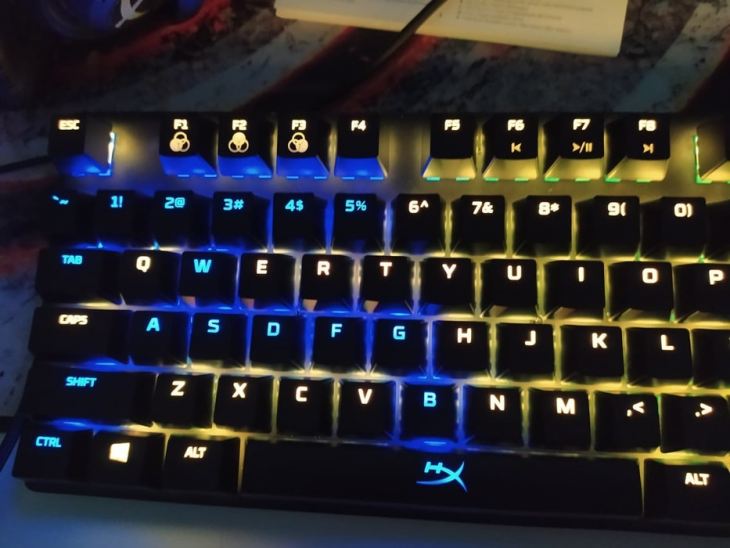 Universal soldier
The HyperX Alloy Origins is an effective fighter, no matter what front it is sent to. In civil conditions, the high space bar may be impressive, but from the technical point of view, the equipment works flawlessly. Built-in function keys allow you to change previously saved keyboard settings and control multimedia without distracting from work, while the over kilogram construction with rubber feet means that HyperX Alloy Origins will not slide even on a clean table. Thanks to its weight, the keyboard can be used in self-defense during a potential zombie apocalypse, so just take (and play).
We sincerely thank Kingston for providing a review copy.
* at the time of writing, PS5 and Xbox Series X are not available yet, but we should expect the keyboard to work with them.
** I do not recommend checking this type of possibility at work, because you can simultaneously close a file, open a second one and print it to PDF. You have been warned.
*** this text cost HyperX Alloy Origins over 1000 spaces. By adding intensive testing in CS: GO, I can assume that I pressed this button about four thousand times in one day – if I keep this pace, I'll have a keyboard replacement in about 54 years.
**** Given that the Echo Fox ceased to exist in November 2019 – it would be possible to remove this preset from their site.