A quite satisfactory beginning to the story usually heralds an interesting continuation. Although the DC Universe does not have many interesting acting films, the series about the Amazon Princess is an example that we can watch a good production here too. However, Wonder Woman 1984 completely fails any expectations.
It's 1984; Diana Prince, the title character, lives in America, works as a scientist. Interested in archeology. She is still alone and misses her beloved Steve Trevor, who died in World War I. Her co-worker, Barbara Minerva – a woman who is always withdrawn and unnoticed by others, examines the mysterious stone. The oilman Max Lord is interested in him. Steve appears in Diana's life, brought back to life by a certain magic. Most importantly – it quickly turns out that the mysterious artifact has the power to fulfill wishes and led to the collapse of many civilizations. And so begins a story full of impressions … which are not there.
Everything has a price

It seems to me that the film was supposed to contain a deeper message under all this adventure cinema atmosphere. First of all – in life, what really matters is loved ones. We can see it, for example, in the key relationship for the plot between Maxwell Lord's son and himself. I liked that an antagonist is not a man who wants power just because someone hurt him during his childhood. The second theme – everything leads to chaos, and people destroy the world with their greed. The cataclysm that the main character was supposed to prevent is the standard end of the world. The threat of a nuclear war, riots in the streets, terrorism… it was all due to human wishes. They, on the other hand, still want more, leading to their downfall. They cannot appreciate anything and quickly regret the decisions they have made. And the third point – everything has its price, and fulfilling a dream, we are missing something much more important. Barbara wants to become like Diana. She becomes popular among men, strong, more self-confident. As a consequence, she ceases to be herself – a nice, sympathetic woman with a good heart. Wonder Woman revives her lover, but loses her power and cannot protect the innocent. Max Lord grows powerful and wealthy, but moves further and further away from his little son while endangering him. Or maybe I'm trying to find valuable elements in this production at all costs. Apparently, everything has its good and bad sides…. Max Lord grows powerful and wealthy, but moves further and further away from his little son while endangering him. Or maybe I'm trying to find valuable elements in this production at all costs. Apparently, everything has its good and bad sides…. Max Lord grows powerful and wealthy, but moves further and further away from his little son while endangering him. Or maybe I'm trying to find valuable elements in this production at all costs. Apparently, everything has its good and bad sides….
Kino, ale chyba nie superbohaterskie?

Powiem szczerze, że nie wiem, co mam sądzić na temat tego filmu. Kino superbohaterskie cechuje się pewnymi specyficznymi rozwiązaniami. Zadajmy sobie zatem pytanie, czego zazwyczaj oczekujemy od tego typu obrazów? Fabuły, odpowiedniego tempa akcji, odrobiny humoru, ciętych ripost, rozwoju postaci, pewnie efektów specjalnych, problemów, upadku bohatera i wielkiego triumfu dobra nad złem (często za wysoką cenę). Wymienione elementy są potrzebne, ale mogą przyjąć różną formę, konwencję – np. Batman Matta Reevesa z Robertem Pattinsonem ma być filmem detektywistycznym w stylu kina noir. Wiadomo też, że każdy reżyser podchodzi do tematu indywidualnie, traktując historię w sposób, który jest zgodny właśnie z jego wizją – i bardzo dobrze! Sukcesem Taiki Waititiego i jego Thora: Ragnarok było nowatorskie podejście do bohatera i historii. A i w Uniwersum DC znajdziemy całkiem niezły Shazam!, z zabawną fabułą i postaciami, które można łatwo polubić. Warto wspomnieć też Wonder Woman – ponownie: zgrabna historia, ciekawi bohaterowie, przemyślana intryga, plus zaskoczenie na końcu. Większość filmów superbohaterskich przyzwyczaiło nas do pewnych schematów i powtarzających się elementów: mniej lub bardziej epickich walk (bo i skala rozmachu bywa różna), a czasem chodzi o swego rodzaju grę psychologiczną, pojedynek osobowości. Tymczasem w Wonder Woman 1984 nie doszło do epickiej walki ani na pięści, ani na umysły. Co w zamian, zapytacie? Otóż dostaliśmy np. niesamowicie długą scenę lotu głównej bohaterki na miejsce spotkania (niczym Goku w Dragon Ballu), a następnie krótkie starcie między dwoma żeńskimi postaciami. Podczas całego seansu nieustannie sprawdzałam, ile minut pozostało do końca filmu, cały czas zastanawiając się, kiedy nastąpi wreszcie konflikt i główne zawiązanie akcji. Kolejne kwadranse mijały, a czara goryczy przelewała się, zamieniając się w bagno skrajnego zwątpienia. I tak sobie po cichu żałowałam, że nie oglądam czegoś innego.
A może pomyliłam film?

Momentami odnosiłam wrażenie, że oglądam serial obyczajowy z wieloma wątkami i bohaterami. Ewentualnie film składający się z kilku odrębnych historii, które jakoś się ze sobą wiążą – coś w stylu To właśnie miłość. Z tą tylko różnicą, że tam akcja angażowała, bawiły dialogi i cięte riposty, komizm sytuacyjny! Idąc o krok dalej, seans można też porównać do sytuacji, gdy w przerwie na reklamę, skacząc między kanałami, jednocześnie ogląda się trzy różne produkcje: 1) Diana i Steve na Romance TV – ich uczucie, dramat obyczajowy fantasy pomieszany z akcją i komedią, 2) Z kamerą u Lordów– jego pragnienie bycia ważnym i relacja z synem – dramat rodzinny, 3) Zmień życie z Minervą – seria poradników na kanale lifestyle'owym. Już nie wspomnę o tym, że w ostatecznym rozrachunku głównym bohaterem wydaje się być postać grana przez Pedro Pascala. Doceniałam reżyserkę Patty Jenkins, ale najzwyczajniej w świecie zawiodłam się na tym filmie.Bo jeśli ma się ochotę przewinąć pół filmu, to ewidentnie coś tu nie gra.
Nie polubiłam bohaterów

Ogromny problem stanowi niezbyt wyrazisty antagonista. W porównaniu do wroga Diany z Wonder Woman, Max wypada słabo. Ares był charyzmatyczny, nawiązywał więcej interakcji z Dianą, czuć było siłę i złowrogość tej postaci. Druga bohaterka, która teoretycznie też należała do grona antagonistów – Barbara – przez większość filmu skupiała się raczej na zmianie swojego image'u, nie interesowała jej walka (serio, czy ona faktycznie była wrogiem Diany?). Zbyt mała liczba wyrazistych postaci (zarówno na pierwszym, jak i drugim planie) potrafi filmowi zaszkodzić. A już szczególnie, gdy metraż produkcji jest słuszny. I tak w Wonder Woman 1984 mamy dosłownie czterech bohaterów: Steve'a, Dianę, Maxa, Barbarę, gdzieś tam w tle czai się syn Maxa. Z tej grupki dobrze pod względem gry aktorskiej wypadł Chris Pine (Steve), Pedro Pascal (Maxwell) wydaje się zbyt przerysowany, ale mimo tego również jego występ oceniam jako całkiem znośny (choć ma na swoim koncie dużo lepsze role). Gal Gadot (Diana) nie dała z siebie zbyt wiele, a jej postać pozostawała ciągle taka sama, trochę się więc zawiodłam. Najgorzej sytuacja wygląda z Kristen Wigg (Barbara/Cheetah). Dzięki swojemu doświadczeniu (aktorka wywodzi się z kultowego Saturday Night Live) sprawdziła się całkiem dobrze w scenach humorystycznych, w innych – już niekoniecznie.
"Najki", wszędzie widzę "Najki", czyli warstwa wizualna i inne nawiązania

Nie będę szczegółowo wspominać o reklamach produktów firmy Nike – mam wrażenie, że ciągle ktoś mówił o butach, pokazując konkretne logo. Nie wiem, czy traktować to jako sukces marketingowców, czy sposób na dręczenie widza. Subtelniej wyglądało to np. w filmie Harry Potter i Więzień Azkabanu – odsyłam do sceny, w której Harry i Hermiona walczą z Bijącą Wierzbą, oglądamy tam dosłownie kilkusekundowy najazd na podeszwę butów Czarownicy – Nike. Co prawda nie jest to jeszcze poziom naszego rodzimego rynku filmowego – słynne już "Nie parówki, tylko Berlinki" w polskich komediach. Scenografia sekwencji z "bunkra", z którego Lord nadawał na cały świat, przypominała teledysk grupy Muse do piosenki Time is Running Out – miałam wrażenie, że zaraz zobaczę zespół i tańczących wojskowych. Można też pomyśleć o serii Terminator i maszynie do podróży w czasie. Złe przeczucia co do warstwy wizualnej, pojawiły się już na początku seansu – święto Amazonek i kłujące w oczy sceny walki. Po zwiastunach i zdjęciach z planu spodziewałam się czegoś na lepszym poziomie. Bohaterowie poruszają się nienaturalnie – patrząc chociażby na choreografię scen walki. Co do wyglądu postaci Cheetah – za dużo CGI, za mało charakteryzacji, w efekcie bohaterka wyróżnia się na tle reszty świata, wywołując efekt porównywalny do tego z Kotów. Najwidoczniej doświadczenie uczy: nie spodziewaj się niczego dobrego, najwyżej pozytywnie się zaskoczysz. W tym przypadku trzeba by było wyłączyć myślenie, czucie i tylko patrzeć, cieszyć się z każdej głupoty pojawiającej się na ekranie. Nikt i nic nam, widzom, nie może pomóc. Wrażenie robi jednak zbroja Diany. Całkiem dobrze oddano też klimat Ameryki lat osiemdziesiątych: centra handlowe, specyficzną modę (te stroje do ćwiczeń!). Podobnie do tematu pod względem wizualnym podeszli w Stranger Things bracia Duffer. Przed oczami stanęły mi sceny przedstawiające matki obserwujące młodego ratownika na basenie. Pozostaje jeszcze niewidzialny odrzutowiec Wonder Woman, stanowiący swoisty ukłon w stronę zaznajomionych z komiksowym pierwowzorem. Fani pewnie docenią ten zabieg, choć sam wątek też został zmieniony, a gadżet szybko popadł w zapomnienie. Po co komu samolot, skoro może latać jak Superman? Po to, żeby lecieć szybciej i nie wkurzać widzów!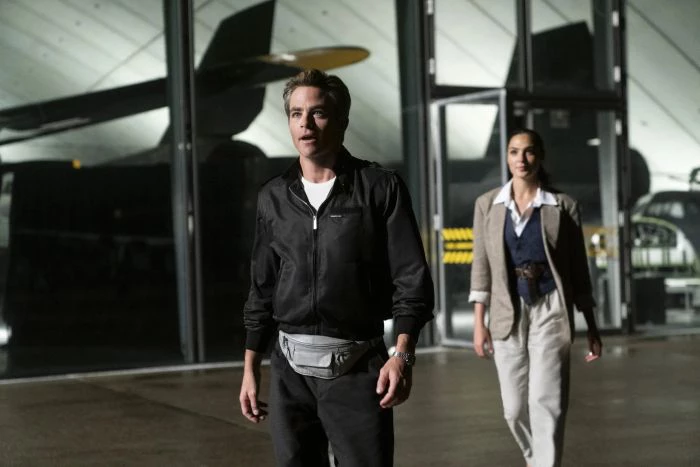 Steve ratuje sytuację

Zasadniczo cieszę się, że twórcom nie udało się chociaż zrujnować ścieżki Steve'a. Jego śmierci nie próbowano na siłę pokazać w sposób spektakularny, pełen dramatyzmu – brak tu ogromu cierpienia czy czegoś w stylu pstryknięcia Thanosa i słynnego rozsypywania się na wietrze. Cóż, sytuacja smutna, ale bohaterka musi iść dalej. W filmie pojawił się też komediowy akcent, który wyróżnia się na tle całości. Mam tu na myśli motyw odnajdywania się Steve'a Trevora w nowej rzeczywistości lat 80. Jego autentyczna radość z nowinek techniki, szczególnie w zakresie lotnictwa, a także próba dopasowania się (chociażby pod względem ubioru) były zabawne – moment, w którym ten nakłada coraz dziwniej dobrane elementy garderoby (nawiasem mówiąc, to trochę niepokojące, że tak nagle jego gust spadł poniżej poziomu zera bezwzględnego. Ach, ta patriotyczna nerka z flagą USA!).