In most horror movies, the heroes run away from various creatures and try to have as little to do with supernatural powers as possible. However, there are people who really care about establishing direct contact with the afterlife in such a way as to close the mouths of all doubters. With a camera on your forehead and a flashlight in your hand, you can become one of them!
If you know any of the many American ghostbusters series driving around the country looking for ghosts like Scooby Doo's friends, or presenting such groups in full-length productions such as Grave Encounters or Malevolent , then you are at home. You will become a member of this team by playing Phasmophobia !
Measure, weigh, lick!
If someone still does not know what exactly is going on, I already explain. The existence of such groups is guided by one goal: reliable and verifiable documentation of the activities of supernatural forces using methods generally considered scientific and objective. So, there are cameras, cameras, night vision devices, thermometers, magnetic field meters, super-sensitive microphones, UV lamps, voice recorders and any other equipment that is able to register the activity of visitors from the afterlife in a way that leaves hard evidence.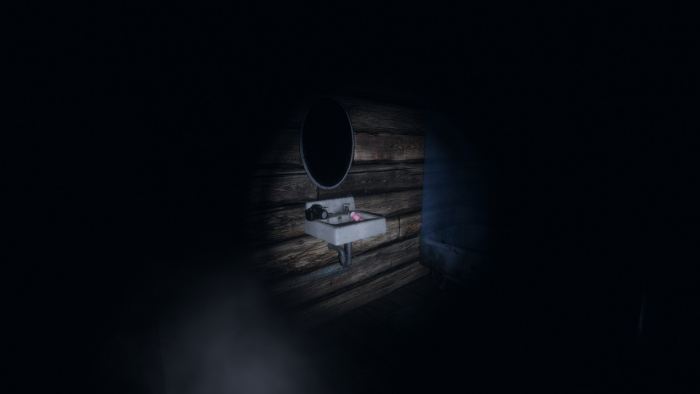 Teams of such specialists roam the world and visit all kinds of haunted places, from gloomy, abandoned castles and hospitals to ordinary apartments where inexplicable events occur. While in fact they provide us every year with another "authentic" photos of ghosts and recordings of hoarse voices of the dead, in which the truth is hardly believed, in Phasmophobia there is no mystification – here these creatures are completely real … and can be dangerous.
Go shopping, get your equipment ready, plan your approach!
We start the game by joining a lobby with a maximum capacity of four people, choosing a contract with the appropriate level of difficulty (currently there are three – beginner, advanced and professional), buying the necessary gadgets and adding them to the pool of items that we will take with us on a mission. Each participant has his own funds and instruments and it is only up to him what he will make available to the team at a given moment. Avarice is neither welcome nor particularly common here – more equipment means more options, as well as better chances of survival for all players and higher earnings after level completion. Usually, therefore, either everyone contributes equally, or the more experienced players with a higher budget share their rich arsenal with their colleagues, but in any case the team is rarely missing something.
After reaching the destination, we receive from the headquarters basic data describing the person with whom we are trying to contact with supernatural remnants. It is always the name and surname, gender and information whether the delinquent haunts the building without a bit of embarrassment, or whether he is active only in the company of lonely guests. Our main task will be to track the room in which the presence of the spirit is strongest, to gather evidence of its activity, and then to determine the type of being we are dealing with. Then we can evacuate immediately or try to meet minor additional goals, such as obtaining a high reading of the electromagnetic field, recording a sharp drop in temperature or causing the so-called ghost eventthat is, a situation in which the specter speaks to us, appears in the room or begins to move objects in front of our eyes.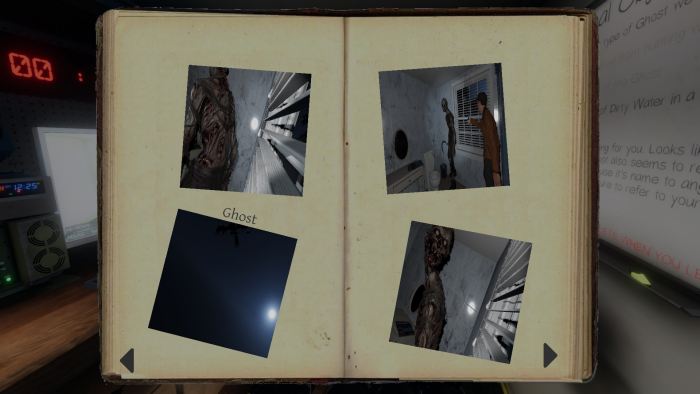 Depending on the type of ghost we are dealing with, the gameplay may be different and cause problems at different stages of the investigation. Sometimes it will be difficult for us to find a favorite corner of the ghost at all, sometimes the challenge will be to force it to leave traces, other times the creature will be very active and aggressive from the very beginning, and we will have to work like boiling water to gather the necessary evidence before a stranger from the beyond will knock us out Therefore, we should adapt to the situation and, depending on the need, move together, separate into pairs or units in order to speed up the reconnaissance at the expense of safety or, for example, appoint a specific person to transport gadgets or sit in a van, from where he can warn us by radio about jumps of paranormal activity on the sensors, announcing incoming attacks.
A festival of curiosities
As I have already mentioned, one of the most important points of each game is identifying the type of ghost we are dealing with. We are trying to collect a set of three proofs of the presence of a ghost, such as fingerprints, low temperatures, anomalies in the magnetic field or sinister scribbles in notebooks, and their configuration will reveal what exactly our little one is. At the moment, Phasmophobia has twelve types of ghouls , each of which is unique and has different habits and abilities. Their original names are: Spirit, Wraith, Phantom, Poltergeist, Banshee, Jinn, Mare, Revenant, Shade, Demon, Yurei, and Oni .
While some of them may get confused at first, after a few hours in the game, we will begin to read certain patterns accurately. Shade is an extremely secretive entity that can put our patience to the test and sometimes make us doubt whether the program has not encountered any error and created a level where no supernatural forces exist at all. The poltergeist will be especially eager to throw random items at the newcomers, Mare will turn off the lights in the entire building before starting the hunt, and Banshee will fixate on a specific member of the team and will not rest until he takes his life. The Demon will be the fear of all novice hunters – extremely aggressive and prone to unprovoked attacks in the first minutes of the game, able to kill all four players even on the lowest difficulty level.
Don't anger the spirit, because the spirit is listening!
What undoubtedly distinguishes Phasmophobia from competition is its focus on rich interaction with the player and building the illusion of the reality of his experiences. The title is adapted to work with VR systems, but also playing in ordinary headphones with a microphone can provide an unforgettable experience. First of all, because voice communication is not only necessary to efficiently coordinate our activities with other members of the team, but also provides us with closer contact with … the spirit itself.
If you believe the creators' assurances, the creature that scares you at a given level is managed by an artificial intelligence that listens to our conversations every second and reacts to them. Although the phantoms are not particularly eloquent in direct conversation (they operate only with a handful of pre-programmed answers to specific questions), the power of this solution will show itself in all its glory when we see the actions of the bogeyman following our statements.
When, using the microphone, we ask the phantom to reveal himself, it happens that in response he throws a book from a nearby bookcase, turns on the faucet in the washbasin or whispers something straight into our ear. If we cannot find him and repeat the question several times where he is, or which room is his favorite, the ghost will open the appropriate door for us or make a phone ring in the interior of the building, indicating the direction. An additional flavor is the mood of the ghost, changing not only with the time of our stay in the haunted place, but also in relation to the language we use and whether we are polite or the opposite.
I find it particularly brilliant to assign curses and insults the ability to make a wraith instantly angry, because it's not only atmospheric (who would like to hear such words in their "place of residence"?), But also perfectly regulates toxic behavior among players. Some random person from the Internet swears like a shoemaker or starts unnecessary quarrels? Relax, the spirit will lose its patience faster than you and it will choke the delinquent without further ado. Phasmophobia also quickly teaches players to throw meat in moments of fear or surprise, because the hunting apparition is only waiting for shouts that will reveal our position and additionally provoke an attack on us.
And that's just Early Access!
While PhasmophobiaIt is still in Early Access and the date of its completion remains unknown, and you can already enjoy it for many long hours. Various ghosts and the ability to play with three friends ensure great replayability even with a relatively small number of maps (seven, eight in preparation). A huge advantage is also the fact that for an unfinished product the title is quite polished and largely error-free, thanks to which the current version is relatively stable. The creators can therefore devote themselves entirely to working on new content, instead of patching faulty elements prematurely made available to players. All this is optimistic, because the next locations and the variety of visual and sound effects seem to be a matter of time, and this would strengthen the only weaknesses of today's Phasmophobia. Anyway, even at the current stage of development, the game is fully worth its moderate price of about PLN 50 on Steam.