Wally West is a character shown in an uninteresting context in the Heroes' Crisis . It is true that we do not have a repeat of the story with Hal Jordan, who committed unimaginable crimes, became an outlaw and received redemption, but I must admit that something like this would probably be needed.
Too many ideas, too fast pace, and everything is blurry
Flash Forward Scotta Lobdella wydaje się komiksem, który stara się być wszystkim, ale kończy się niczym. Ta miniseria to beztroska podróż przez DC Multiverse, zapoczątkowana w Kryzysie Bohaterów, retrospektywnie nawiązująca do historii z Zegarem Zagłady. Usilne nawiązania do różnych historii sprawiają, że oryginalny pomysł na zaprezentowanie czegoś nowego w ogóle nie wyłania się. Zebranie tego wszystkiego razem pozostawia bardzo mało czasu dla każdej historii i poszerzenie pewnych wątków. Jedynym elementem fabularnym godnym uwagi to osobista podróż Wally'ego Westa, która ma sporo problemów, ale scenarzysta dość solidnie rozwija tą postać.
Oczywiście wątek Wally'ego nie jest pozbawiony elementów, które zasługują na sporą dozę krytyki. Tom zaczyna się od wysłania Flasha na coś, co wydaje się być misją odkupienia jego działań w poprzedniej historii. Mocno przybity Wally, który poszukuje ulgi, po krótkim czasie, bez zupełnego powodu, w następnych kilku rozdziałach żartuje, bije złoczyńców i całuje alternatywne wersje swojej żony podczas przeważnie zabawnej podróży po multiwersum, po czym znów wraca do stanu depresyjnego. To wszystko jest pozbawione zupełnego sensu logicznego, a huśtawka emocjonalna przypomina zachowania nastolatka na sterydach.
Sztuka szybkości
Grafika w Flash Forward jest całkiem dobra i ostatecznie pozostaje jednym z bardziej pozytywnych aspektów tego tomu. Dynamiczna i energiczna kreska Bretta Bootha świetnie radzi sobie z ukazaniem walczącego multiwersum. Każda z bitew jaka pojawia się na kadrach komiksów sprawia, że każda z nich jest inna, mimo że wiele z nich opiera się na tym samym zestawie głównych postaci i rozwiązaniach fabularnych. Podobała mi się również twórcza praca i solidne struktury w ostatnim rozdziale, który przedstawia szeroki wachlarz różnych wydarzeń. Jest kilka miejsc, w których strony wstępne wydają się zbyt zagracone lub chaotyczne, ale te problemy są stosunkowo niewielkie. Podsumowując, wizualizacja jak zawsze u DC stoi na bardzo wysokim poziomie.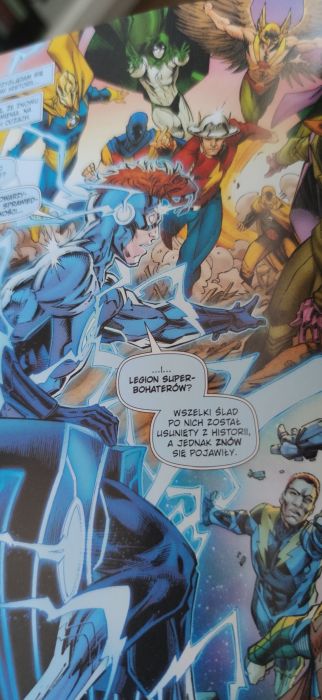 Kreska jak smuga na niebie
Ciężko ocenić mi ten tom. Bardzo dobrze, że Scott Lobdell podjął się tematu odkupienia, niemniej jednak mógł być on poprowadzony w lepszy sposób. Co prawda, Lobdell przypomina czytelnikowi, co lubimy w Wallym, czyli jego optymizm i śmiech, ale kiedy podejmujemy się jakiegoś tematu to lepiej koncentrujmy się na nim i nie mieszajmy uciechy z traumą. DC wraca do korzeni i podejmuje co raz częściej tego typu zabiegi, przepracowywania ciężkich wydarzeń. I chyba to jest w tym wszystkim najlepsze