On June 23rd, "The Seventh Journey" will be released by Wydawnictwo Literackie. The comic is based on a novel by the most famous Polish science-fiction author - Stanisław Lem.
Jon J Muth, a famous American illustrator and comic book author, is responsible for the drawings for The Seventh Journey . His works can be seen, among others in numerous fairy tales, including The Amazing Tales of Panda or, based on a story by Leo Tolstoy,  Three Questions . The Seventh Journey was nominated for the prestigious Will Eisner for the best adaptation.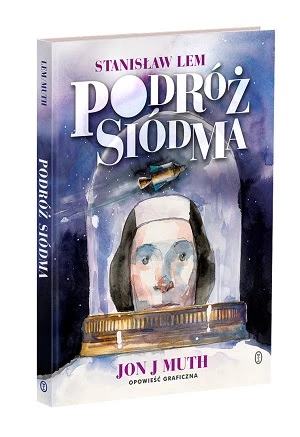 As I passed Betelgeuse on Monday, April 2, a meteor, no larger than a bean called a pear, pierced the armor, shattered the thrust regulator and some of the rudders, and the rocket lost its maneuverability – thus begins Ijon Tichy's unlucky seventh journey. Unable to do anything, our pilot decides to change into his pajamas and go to bed. It soon turns out, however, that he from Tuesday does not approve of his reckless behavior on Monday. I wonder what Friday Ijon would say to that? And which of them can escape this damn time loop?
The seventh journey is a comic book, picture book and a good piece of literature rolled into one. A collector's rarity for lovers of the work of the author of Diaries of the Stars and at the same time an excellent introduction for young readers to flirt with Lem's writing, which will undoubtedly turn into eternal love.