There has never been a shortage of villains in the Marvel universe. After all, there would be no superheroes without them, would there? One of the cruelest, but also extremely complex, was Thanos. Now the Mad Titan is back, but it is not he who causes confusion in the universe!
There's more to the glove!
Thanks to the MCU, Thanos has become extremely popular. His "click" and victory over a group of superheroes has already gone down in history. There was also quite a bit of discussion about whether or not Mad Titan actually wanted to do something good for the universe. Many fans also wonder, and even demand that this "badguy" return in subsequent films. Will this happen? We will see.
Meanwhile, Marvel's antagonist was known to comic book readers long before he appeared on the screens. He made his debut in the 55th issue of Iron Manin 1973. He was born on Titan, one of Saturn's moons, and was of the Eternals race. His mother tried to kill him right after he was born, but her attempt was foiled. His brother was Eros (also known as Starfox), who became everyone's favorite (he also joined the Avengers group years later), while Thanos was treated like an outcast. Bored and depressed, he killed a cat at the age of 8. This made Death in person come to him, which the young man fell in love with and became fascinated with and tried to impress her. Anyway, there was a short romance between them, interrupted by … Deadpool! Meanwhile, the hero tried to seize power on Titan, as a result of which he killed almost all of its inhabitants. The hero went on an intergalactic journey, during which he improved his body with genetic manipulations, he studied mystical arts and built an army. He was also interested in the Infinity Stones with which he wanted to destroy the Universe and please Death. His attempts were stopped by Adam Warlock, who killed Thanos, but he was resurrected by his beloved. Then he formulated the so-called The Black Order, which included, inter alia, Black Dwarf, Ebony Maw, Proxima Midnight or Corvus Glaive and together with them destroyed other planets and took life. He also acquired the Infinity Gauntlet and played with his divine power. Then his granddaughter Nebula stopped him. After another adventures, the hero fraternized with Annihilus. He was then killed by Drax and was again resurrected by Death which made him immortal. He then returned to destroying planets and collecting tributes from various races in space. Finally,In the Secret Wars , he was killed by the all-powerful Doom at the time and was brought back to life with the restoration of the Universe.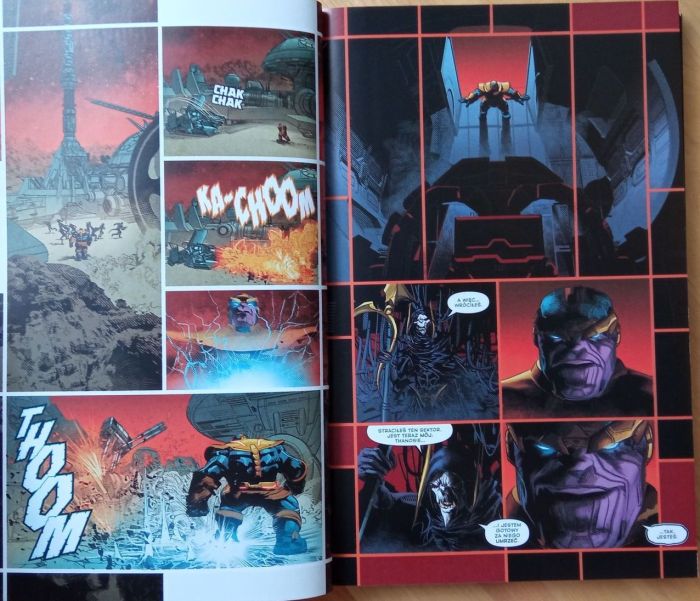 Thanos is not that scary …
It is worth adding that Thanos, although he has many terrible deeds to his credit, has also acted for a good cause several times. He led Mar-Vell's soul to light, supported the Infinity Guard in the fight against Magus, supported Adam Warlock in retrieving the Infinity Gauntlet Nebula, saved Thor from madness, restored balance in the Universe, and saved Gamora from death. Despite many good deeds, he never regained the trust of good heroes. In many cases, this drove him to do evil. Thanos' name had become famous in all galaxies, and other peoples trembled at the mere sound of it. And that's usually right.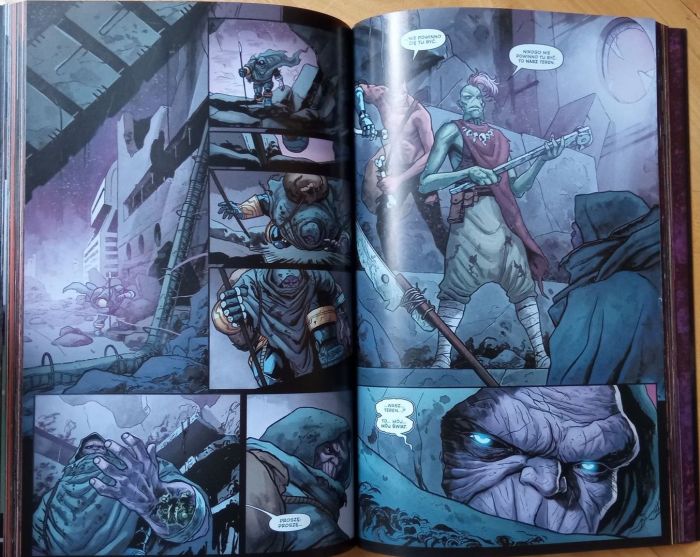 Like father Like Son
After reality was restored to order, the heroes also returned. Both the bad and the good. The Mad Titan also decided to regain his power. However, not everything goes as planned. Thanos knows he is dying. He's getting weaker and weaker every day, which his enemies want to take advantage of. His son, Thane, was among the long list of Eternals who wanted to kill him. To this end, he managed to win over Nebula, Starfox and Tryco Slatterus on his side. They devised a plan to get rid of their common enemy and put it into practice. However, not everyone realizes that all the confusion was invented by Death, who is now pulling the strings and plotting a plot on a global scale! There is only one hope left for Thanos – to go to the Infinity Witches and hope that they will help him regain his divinity.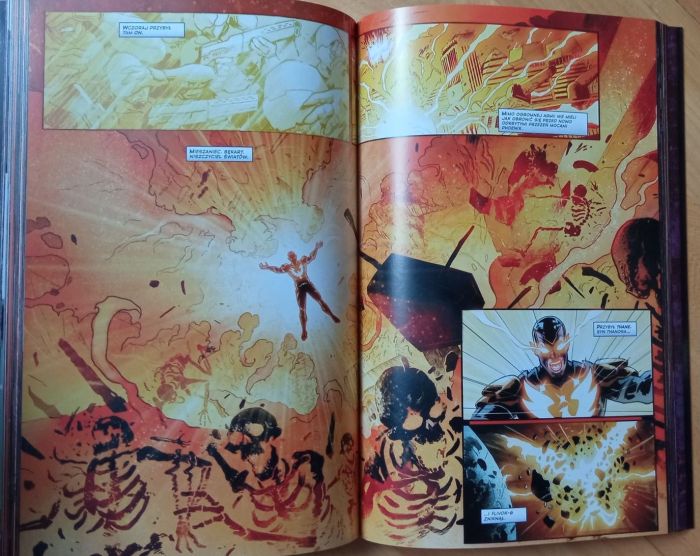 Back in style
After the Secret Wars,Marvel brings back new characters known to all comic fans. Thanos was among them. Canadian screenwriter Jeff Lemire was in charge of its re-introduction into the world of the House of Ideas. The author showed that he did not receive the Shuster Prize in the previous years after acquaintance. Crazy Titan is back with a bang! First of all, you can see that the author had great fun creating the comic. He narrates current events all the time, mentions the past, and even plays the role of a reporter interviewing Gladiator, Troll Pip, Dr. Aurelius or Serik. This procedure introduces us more into history, emphasizes the dark mood and reminds us of Thanos' crimes, but also sometimes adds a pinch of humor to relieve tension. All the time Lemire also leads us by the nose and makes us that we support the title character once, then his son again. He pulls the strings like Death in the notebook in question, giving us hope that there is a good solution to the whole situation. Meanwhile, both gentlemen carry out another cruel deeds, and the hope for a victory for good fades. It is scary to be afraid, which will be the consequence of the first volume.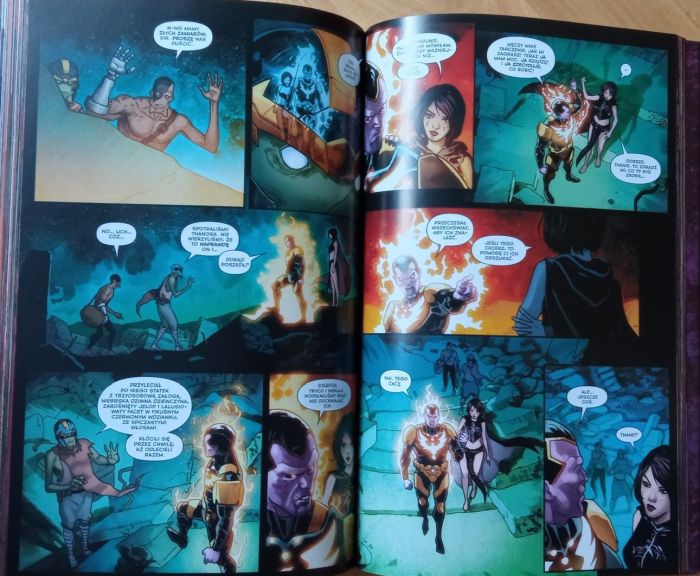 Fifty fifty
Above Thanostwo cartoonists worked. They were Mike Deodato Jr. and German Peralta. The gentlemen received exactly half of the notebook to develop a graphic design. They both did their job brilliantly. The plot of the comic is full of twists, fights and chases, and the artists skillfully showed it. Their drawings are full of dynamics, and the use of appropriate contrasts only increases emotions in the reader, but also pleases the eye. The universe is extremely colorful here, full of details and we stop for a few moments on each side to enjoy the views. And although the styles of both men are different, and the transition from one to the other is noticeable, we get used to them very quickly. I would even say that Peralta draws even more from history, and the fight between Thanos and Thane he drew is a real masterpiece.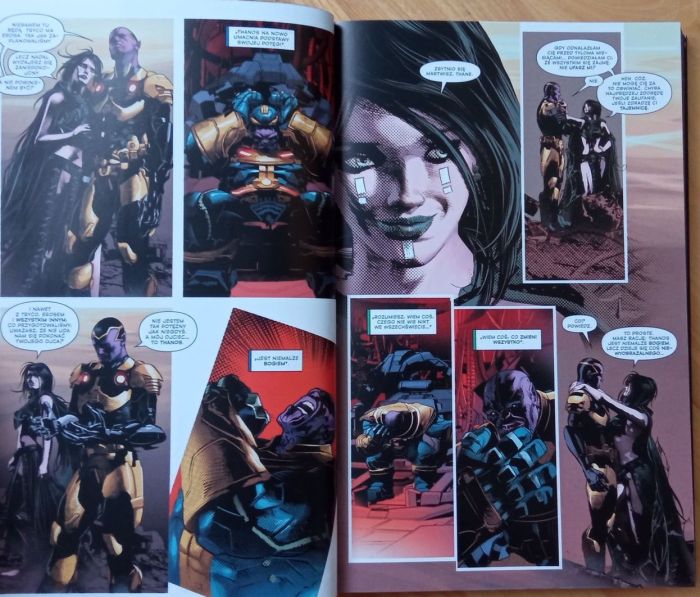 Poor rivals …
Thanos enters Marvel Now! 2.0 and he's furious. Superheroes may already tremble for their fate. And readers rub their hands together. For if the next adventures of the Mad Titan are told as well as those in this notebook, great stories await us. But will anyone jump the bar set very high by Lemire, Deodato and Peralta? We will probably find out soon. Egmont has already announced the second volume of Thanos !