When asked why books are worth reading, there are many alternative (and good!) Answers. You know for sure that reading improves memory and develops imagination. But have you heard that a few minutes of reading can reduce feelings of stress by as much as 60%?
He undoubtedly remembers these facts, Egmont, who recently shared his publishing plans with readers. Notebooks published as part of the KOMIKSY SĄ SUPER line! , gained international popularity. Among them, it is worth highlighting the following: Lou! Eyeopener (Julien Neel), Kamila and horses (Lili Mésange, Stefano Turconi), Ernest and Rebeka (Guillaume Bianco, Antonello Dalena), Ptyś i Bill (Jean Roba, Cric Laurent Verron, Pierre Veys, Diego Aranega, Christophe Cazenove, Jean Bastide ), Dance Studio (BéKa, Crip), Sisters (Christophe Cazenove, William Maury), Fibi and the Unicorn (Dana Simpson), Kasia and her cat(Christophe Cazenove, Hervé Richez, Yrgane Ramon), Czarolina (Sylvia Douyé, Paola Antista), Investigations of Enola Holmes (Serena Blasco, Nancy Springer – author of the novel of the same name), Cherry Diaries (Joris Chamblain, Aurélie Neyret) and Minecraft ( Sfé R. Monster, Sarah Graley).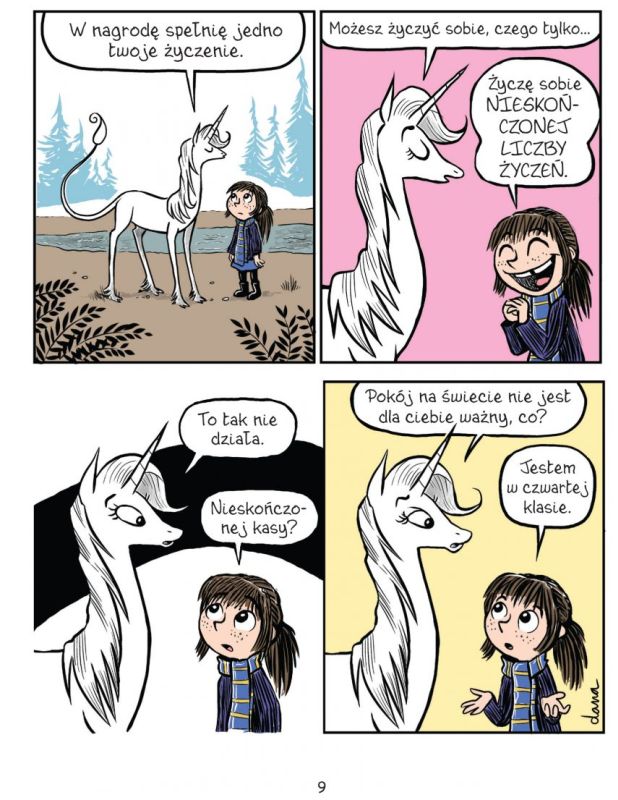 Reading comics is an ideal proposition for all non-readers. The illustrations in the notebooks catch the eye, and the funny stories stay in the memory for a long time. The authors of the aforementioned comics made sure that potential recipients were satisfied. The heroes created are often teenagers – they go to school, make friends with their peers, develop their passions and have dreams, the realization of which guarantees extraordinary adventures. Egmont Publishing House has prepared both short, one-page stories and longer episodes for its readers.
French propositions deserve special attention – Lou! Eyeopener (winner of the Youth Award at the International Comic Festival in Angoulême) and Dance Studio . Girls especially like the adventures of happy heroines from the aforementioned comics. After all, it's not easy to survive when you have your first crush, a pimple pops up on your forehead or you feel embarrassed by your brother. In other proposals, the heroes share their world with small, nice friends – animals or … a microbe. Ernest and Rebecca seriesshe also won an award at the Angoulême Comic Festival. In this best-selling story, a six-year-old girl is friends with the microbe Ernest, who helps her cope with her parents' quarrels and her illness. In turn, the dog closest to Ptysy's heart is Bill, with whom he plays Indiana Jones and builds snow castles. The comic book Ptyś i Bill is the work of the legendary Belgian author Jean Rob, whose work is continued by Laurent Verron. In another story, however, Fibi, a fourth grade elementary school student, meets the magical unicorn Marigold in the forest. American Dana Simpson received two important American awards for children's creativity for the series. Egmont also published series about young detectives. Wisienka's Diarieswon the Youth Prize at the Angoulême International Comic Book Festival, and Investigations by Enola Holmes refresh the story of the adventures of the Sherlock family.
Interesting Egmont's publishing offers are comics by Polish authors who are laureates of the Janusz Christy for a comic book for children. Here is Tosia by Marta Falkowska and Maja i Minizaury by Kajetana Wykurza are unique stories that will surely win the hearts of both younger and slightly older readers.