Fans of Japanese comics must have met with the works of the Clamp group more than once. They enjoy unflagging popularity around the world, and many of the manga of these four ladies are considered classics in their genre. This is certainly the case with the Cardcaptor Sakura manga , which has recently started appearing in Poland. So let's find out if the title deserves its status.
In order to understand the works published by Clamp, it is necessary to get to know the historical background. Initially, the group consisted of eleven women who created fan comics – doujinshi . Their first titles focused on showing unusual, often even strange, romances. An example is their first title: Clamp in the Wonderland , where Noriaki Kakyoin and Jotaro Kujo from JoJo's Bizarre Adventure raise their son who … hatched from an egg. The authors have a surreal style and focus on controversial relationships to this day and such threads can be found in most of their works, also in the discussed comic Cardcaptor Sakura .
A magical adventure
But let's start from the beginning. The plot of the comic tells the story of the title Sakura, a girl from the fourth grade of primary school, who lives with her brother Touya and father Fujikata. Her everyday, quiet life is interrupted when she finds a mysterious book in her father's bookcase. After opening it, magic cards are released that quickly disappear from the eyes of the main character. Instead, a cute little creature resembles a teddy dog ​​appears in their place. He introduces himself as Kerberos, the guardian of the Clow Kart. It turns out that he was asleep for a long time. The rested protector did not have time to react to the attempt to open the book, as a result of which powerful powers were released into the world. Sakura's task is to find and catch the entire deck of cards before they can harm someone.
A simple story helps the authors to show what is most important to them – the relationships between the characters. The first three volumes focus on Sakura's family, the main character's best friend – Tomoyo, a rival also trying to catch cards – Syaorana, and Touya's friend – Yukito. However, due to the construction of the comic book, each chapter of which has a separate, closed plot, there are many more characters. They are mostly episodic. Nevertheless, they were not treated with neglect. Their threads allow you to look at the world presented from a different perspective, and the heroic themes complement the other characters, allowing the reader to get to know them better. In the first volumes, we observe the development of characters, especially Sakura. The girl gets to know herself better and better through successive clashes with magic cards. These are not fights
Pierwsze miłości
Poza łapaniem kart, Sakura jest zajęta także swoim codziennym życiem. W nim jedną z najważniejszych ról odgrywa Yukito, przyjaciel jej brata oraz miłość dziewczynki. Chłopak chodzi do drugiej klasy liceum, różnica wieku jest więc ogromna. Wątek miłosny jest jednym z głównych tematów w tej serii. Rodzice protagonistki wzięli ślub, kiedy jej nieżyjąca już mama, Nadeshiko, miała zaledwie 16 lat, a ojciec Sakury był ówcześnie jej nauczycielem. W komiksie pojawiają się także wątki homoseksualne. Tych jednak nie będę ujawniał, żeby nie zdradzać tajemnic historii. Przedstawiając takie relacje, Clamp wzbudza ciekawość i stara się podjąć dyskusję z czytelnikiem dotyczącą często zakazanej czy kontrowersyjnej miłości.
Warto zaznaczyć, że autorki czerpią bardzo dużo inspiracji od uznanych autorek romansów, takich jak Riyoko Ikeda. Widać to zarówno w warstwie fabularnej, jak i – przede wszystkim – artystycznej. Rysunki w całym komiksie są urzekająco piękne. Ilość detali na projektach postaci jest ogromna. Bohaterowie są często przedstawiani w pełnej okazałości, aby zaprezentować ich nowy strój. Przede wszystkim tyczy się to tytułowej bohaterki, która zmienia image co chwilę. Wszystko jest narysowane bardzo subtelnie, co idealnie oddaje klimat serii i zdecydowanie pomaga wywołać uśmiech na twarzy w trakcie czytania. W historii często przewija się motyw kwiatów, dlatego także i na rysunkach pojawiają się płatki latające na wietrze, co tylko dodaje uroku. Jednak tła często wydają się puste i zdecydowanie nie poświęcono im wystarczająco uwagi. Warto dodać, że w polskim wydaniu na początku każdego tomu znajduje się kilka kolorowych stron z rysunkami Sakury oraz jej przyjaciół, tworzą one w ten sposób miniaturowy artbook. Dużą zaletą jest także bardzo dobrze zrobiona obwoluta, z przyjemnego w dotyku i wytrzymałego papieru. Samo tłumaczenie jest poprawne, chociaż akcent Kerberosa (w oryginale używał dialektu Osaki) jest trudny do przełożenia, a jego dialogi z tego powodu mogą wydawać się trochę nienaturalne czy sprawiać trudności w poprawnym przeczytaniu.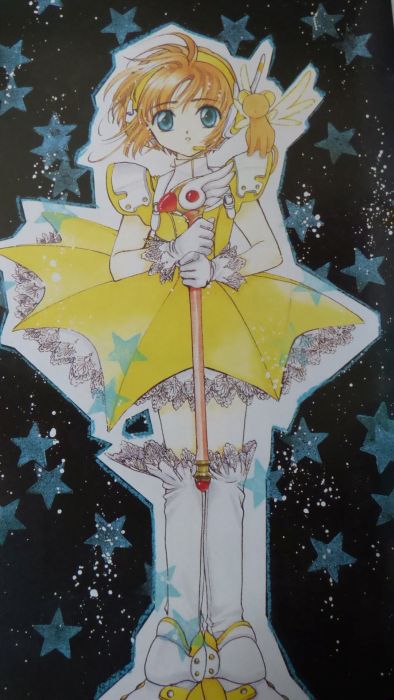 Czarujący klasyk
Cardcaptor Sakura clearly deserves its cult status in the mahou shoujo genre . The original and interesting approach to the topic of duels stands out from other titles. The daily life of Sakura and her friends is followed with a constant smile and curiosity. The reader wants to know solutions to several mysteries that appear in the first volumes. Despite the fact that the manga was created in 1996, the topics discussed in it are relevant to this day, and its style has not aged at all. Clamp fans probably do not need to encourage them to buy, in turn, I recommend this title with all my heart to everyone else.