God's finger is a successful arcade game that surprises with originality and at the same time evokes a feeling of nostalgia for the iconic bottle cap game
The creators of the game Finger of God are Paweł Stobiecki , Jan Truchanowicz and Łukasz Włodarczyk . The illustrations were made by Dagmara Gąska ( Orbs CCG, Earthcore: Shattered Elements ) and Krzysztof Piasek ( Awaken Realms) . The title was published by the Foxgames publishing house ( Nowy Wielki Świat, Eko) . It is really promising! Roughly, the idea is to place as many prophets of certain deities on the islands as possibleand thus convert a considerable number of their inhabitants. The winner is whoever does the best (i.e. scores the most victory points). The item impresses with its design, but also amazes with the great fun it causes. After all, how often do we persuade the messenger of the Egyptian patron of mummification Anubis or the sun god Ra to make a bouncy wandering around the atolls? 🙂
The game includes a map, 4 double-sided god cards, 20 law cards, 28 prophet discs, 8 templar discs, 16 temple discs, victory point tokens, monkey king disc, sphinx disc, disc sticker set, three special markers, reserve tile and instruction.
Freja, Dagda and the rest
The set includes representatives of four mythologies: Greek (Zeus and Temis), Egyptian (Anubis and Ra), Celtic (Dagda and Morrigan) and Norse (Freya and Tyr). Each of them has their own abilities, some of them also possess unique items that definitely diversify the gameplay. What is most interesting, their selection is not accidental! The name of the Iranian god of druids and agriculture, Dagda, means "Good God / Good Hand" , and he has the Hand of God, which can be positioned on the map while snapping, making it much easier. Freja, the Norse goddess of vegetation and love , on the other hand , has a heart markerthat unites a flea from her team with that of her opponent. Illustrations of individual deities also fit their encyclopedic descriptions. Dagda was most often depicted with a club, which he also wields in the illustration from the game. It is similar with Zeus, who looks at us wearily from his throne on Olympus.
Before starting the game, stickers must be placed on individual elements!
The auxiliary finger of God. Thanks to this attribute, it is easier to place a chip in a specific field
Closed eyes, little finger shot
The game consists of several phases. The first is the deliberation phase where players decide which laws will affect the rules of the game. Above Laws can be, for example, commands to eject a chip from a vertical position, shooting with eyes closed, using only the little finger, etc. An interesting procedure is the decision process, which determines the rule present during a given game. At the beginning, two competing law cards are revealed (for example: snapping indiscriminately, snapping in time). Then, voting takes place by stretching the thumb (down or up) for one of them. You can almost feel like the emperor in the Roman colosseum.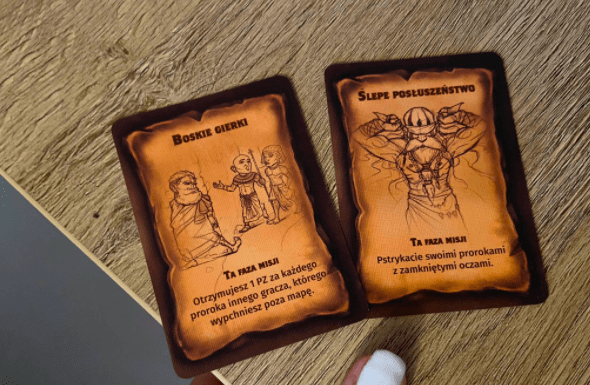 Examples of Bill of Rights
After selecting an effect for a certain turn, players proceed to the Mission Phase in which they move in a specific way and devise strategies to score as many points as possible during the conversion phase . Additional points can be obtained, among others for building a temple, placing prophets in the Navel of the World, and the presence of his envoys on various islands. An interesting trick is also knocking out enemy tokens and skillfully replacing them with yours in a given area. The key to victory here is therefore not only dexterity, but also wisdom!
The duration of the game is approx. 20/25 minutes. Number of players – from 2 to 4.
Hell or Heaven?
Pros: Incredible fun, a multitude of options when it comes to rolling the "caps", no random attributes associated with specific gods, great potential for extras
Cons: Necessity to place stickers on individual elements of the game, relatively short course of the game