Can you imagine anything better than a cool day spent with tea, under a blanket and a book about cute Moomins? Right now, yes! Egmont Publishing House decided to release to our market the first volume of amazing, funny and sometimes slightly abstract comics about Moomins by Tove Jansson.
Moomins in the comic version have already been present on our market, published by the Ene Due Rabe publishing house. For several years, however, getting them was bordering on a miracle, so I was even more pleased with the decision of the Egmont publishing house to issue a new release.
The album contains eleven stories full of unexpected twists, fantastic places, and above all, cute faces of Moomins and their friends. The whole world known to me so far from books and animations, thanks to these 228 pages, came to life again. I must admit that Tove Jansson has once again been a great author. Both the plot ideas and the artistic performance in this book are simply perfect. I can't remember how many times I burst out laughing exactly while reading, or sighed with delight at the skillful building of an atmosphere using a sparing line.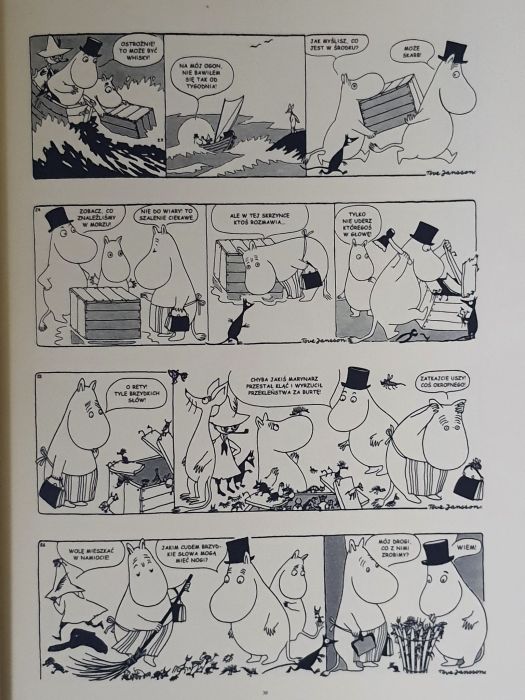 Eleven great ideas
This time Tove Jansson showed us how hard it is to get rid of guests sometimes, and how difficult life and relationships with family can be. Moomins also manage to confuse hospitality with a hotel in this comic, and also find their ancestors. Winter can be light or harsh, for Jansson it is in turn full of rivalry with Mr. Wicherk, who warms the hearts of the female characters. Everyone annoys Filifionka and two sisters who work as housekeepers by playing pretend, and – as if that were not enough – little Mimbles are everywhere! The Prophet definitely changes the customs of the Valley, and the Primadonna makes the Moomin's heart beat faster. The jungle episode teaches us that it is not worth trusting the mysterious seeds, and the one about the little alien, that borrowing a flying saucer can end in a crash.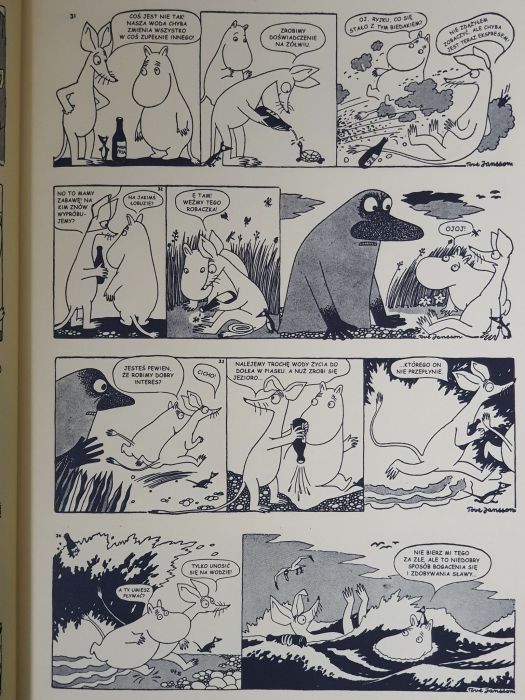 If I were a comic, I would like to be Egmont
The first volume of comics about Moomins is not only a solid read in terms of the amount of content it contains, but also the edition itself. The A4 format, a solid hardcover, sewn and glued, give hope that the publication will survive numerous returns to the Moomin Valley. The yellow pages, which initially surprised me, turned out to be an interesting treatment, as they turned out to emphasize the atmosphere and character of this comic book.
I give five with a plus!
Personally, I am delighted and I will repeat myself: I will reach for this volume (waiting for the next one, but also later) more than once. The Moomin world constantly captivates me, no matter in what form. I highly recommend it and with a clear conscience!
* a quote from the song of the opening story of Moomin, broadcast on Polish television