Such a combination is provided by SWAN: Chernobyl Unexplored , a fresh production of the Volframe studio in Warsaw. Its ingredients are extremely difficult to combine, but in the end it turns out to be quite an edible morsel, especially for fans of the genre.
Vnimaniye ! Vnimaniye !
The action of the game takes place shortly after the events of April 26, 1986 in the former Soviet Union. During the turmoil surrounding the disaster at the Chernobyl nuclear power plant, it turns out that there is only one forgotten facility left in the Zone. The title SWAN Institute, isolated, built deep in the forest, left to itself, cut off from the world, a center for patients suffering from hitherto unexplored diseases (the title Syndrome Without A Name). When the evacuation of the entire area that could be / was contaminated began, a unit of seven rescuers was sent to verify information about the Institute and rescue the people imprisoned there together with the staff. The player takes on the role of the commander of the rescue group (is it?) Aleksiej Tarkowski.
Jumpscare good morning
After launching, the game welcomes you with a fairly loud and atmospheric movie featuring the studio's logo. Watching it over time becomes a tedious chore, because it cannot be skipped and lasts several dozen seconds, less patient players will be frustrated.
Then we get the main menu, decorated with great, romantic music in the background. The track itself on the menu is unfortunately looped and lasts only about three minutes. Detriment. In addition, the entire audio frame looks good. Next, the production provides the player with a summary of the events that took place in the Chernobyl power plant, enriched with photos and historical film materials. The whole text is read to us by a teacher, not just anyone, but Mirosław Utta himself! Veterans of the STALKER series will be delighted. Later, we see images from the past and the Institute's assumptions, stylized as archival ones, which is a great introduction to the atmosphere, because someone who does not know the history would be able to believe that all the information provided is true and – including fictional – actually took place in the 1980s.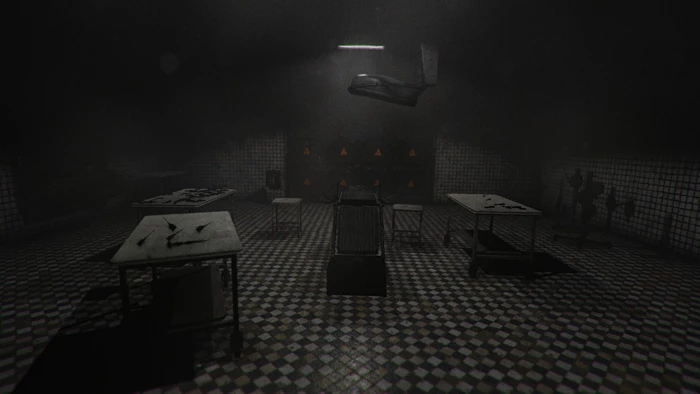 We are prepared to help them
We start the game looking through the hero's eyes, already in the Institute building. As in horror movies, we operate at night, the weather outside is violent, and only a few light sources operate at the Institute. In addition, disturbing noises or screams can be heard from the depths of the facility.
Tarkowski wyruszył do Instytutu na czele oddziału, lecz zwiedzanie ośrodka rozpoczyna samotnie. Co się stało z pozostałymi ratownikami? Odkrycie tej i paru innych tajemnic należy już do gracza, a sam Instytut wygląda tak, jakby najlepsze lata miał już dawno za sobą. Przypomina opuszczoną placówkę, w której działy się makabryczne rzeczy. Korytarze wyglądają ponuro, w pomieszczeniach jest ciemno, mrocznie. Napięcie potęguje muzyka, która często milknie, sprawiając, że nawet na najmniejszy szmer można podskoczyć na krześle. Początkowo gra się w to jak w Amnesię, to znaczy bohater chodzi ciężko, rusza się topornie oraz nie ma żadnej broni. Karygodnym wykroczeniem ze strony twórców jest brak celownika, punktu, czegokolwiek, by zorientować się na co aktualnie patrzy nasza postać. Staje się to bardzo uciążliwe, gdy szybko trzeba czegoś użyć lub podnieść jakiś przedmiot.
Gonią mnie w snach, gonią mnie na jawie
W miarę zwiedzania Instytutu zaczynamy odkrywać jego tajemnice. Wkrótce okazuje się, że nasi towarzysze zginęli w niewyjaśnionych okolicznościach. Zaś przetrzymywani tam pacjenci, z powodu swoich schorzeń potrafili odwiedzać inne wymiary oraz pozostawiać w nich swoje myśli, umysły. Rozdzielać się i przemieszczać między nimi. Dzięki temu w ośrodku wytworzył się swego rodzaju byt, który instruuje gracza w skórze Tarkowskiego. Co pewien czas gra daje nam w ręce urządzenie wyglądające trochę jak broń z Pogromców Duchów, które umożliwia gromadzenie piorunów kulistych, by za ich pomocą niszczyć przedmioty skrywające przejścia do kolejnych lokacji lub odblokować sobie dostęp do rzeczy koniecznej do popchnięcia fabuły naprzód. Wtedy produkcja zmienia się w FPS-a. Takie etapy występują dość regularnie, z czasem stają się coraz trudniejsze, a ich ukończenie daje niemałą satysfakcję. Towarzyszy temu źle zaprojektowany system zapisów gry oraz brak możliwości szybkiego zapisu. Momenty "strzelane", zwłaszcza pod koniec gry są wymagające i czasem potrzeba kilku podejść, by je pokonać. Zapisy są z kolei przewidziane długo przed potyczką. Trzeba zatem za każdym razem dobiec do danego miejsca, pozbierać przedmioty / otworzyć drzwi / coś uruchomić. Jest to bardzo irytujące i zniechęca do powtarzania etapów.
Atmosfear
S.W.A.N. to horror. Lokacje są do pewnego momentu ciekawe. Mamy do czynienia z ciemnymi korytarzami, tajemniczymi salami operacyjnymi, gdzieniegdzie daje się znaleźć mrożące krew w żyłach notatki pacjentów i lekarzy. Na ścianach znaleźć można też tablice informacyjne, reklamy, a także klimatyczne mozaiki radzieckiego snu o przyszłości, socjalistycznego państwa idealnego. Nierzadko jest nam dane przeczytać krótkie notatki nabazgrane prawdopodobnie krwią, które mają za zadanie spotęgować napięcie oraz stanowią proste podpowiedzi. To pierwsze zadanie nie jest spełnione. Litery, mające w zamyśle być bryzgami krwi, wyglądają jak namalowane czcionką mającą co prawda straszyć, ale jednak namalowane od szablonu. Równiutko i ładniutko. Zawsze w taki sam sposób. Sprawia to groteskowe wrażenie. Z jednej strony ma straszyć, z drugiej trochę bawi i niestety psuje wczuwkę. Tak samo jak system odsłuchiwania nagrań w spotkanych magnetofonach. Mimo, że oddalimy się od aparatu, Mirosław Utta rozbrzmiewa w naszych uszach jakbyśmy nosili słuchawki, nawet gdy jesteśmy już pięto wyżej.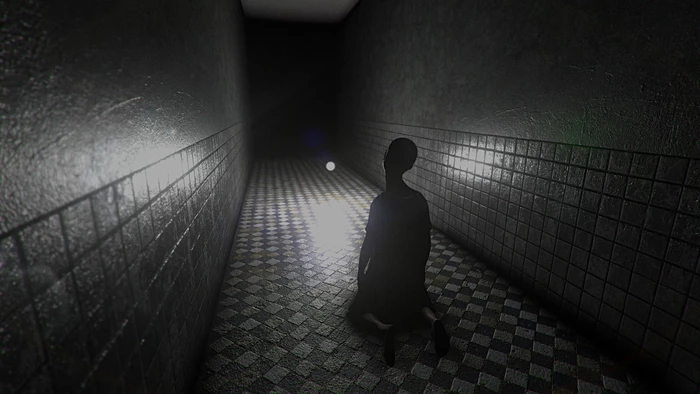 Elementy logiczne i zagadki
Ciekawe wplecione w gameplay są fragmenty z odkrywaniem i eksploracją. Ta ostatnia nie jest może wybitnie rozwinięta, aczkolwiek pomieszczeń zwiedzimy dużo, niestety często bardzo podobnych do siebie i pustawych. Rozwiązania zagadek są ciekawie ujęte w treści oraz w znajdowanych notatkach czy nagraniach. Nie są one bardzo trudne do namierzenia, lecz samo dokonanie tego jest satysfakcjonujące. Produkcja stawia przed graczem także inne zadania po drodze do odkrycia tajemnicy Instytutu. Niejednokrotnie robi to nieudolnie do tego stopnia, że nie wiadomo za bardzo co należy zrobić, by pójść dalej, raz czy dwa instrukcje były dla mnie na tyle niejasne, że pomocy szukałem w Internecie. Ambitni twórcy oprócz zadań głównych postawili przed graczem, zadanie odnalezienia znajdziek.
Połączenie gatunków wychodzi dość strawnie, miło jest odpocząć sekwencją "chodzoną" od "strzelanej" i odwrotnie. Zwłaszcza, że strzelanie jest zrealizowane dość innowacyjnie. Strzelając znajdujemy się w innych wymiarach, niszcząc portale i myśli obłąkanych pacjentów Instytutu. Mieszanie sekwencji jest jednak powtarzalne. Poznając mechanikę raz, poznajemy właściwie całą grę, która później tylko sztucznie podbija poziom trudności. Jest to ciekawe, ale powtarzane wielokrotnie traci na grywalności.
Przed śmiercią, pozwól mi ostatni raz zobaczyć znajomy krajobraz
Zdecydowanie lepiej wypada tutaj fabuła. Odkrywanie tajemnic, zwiedzanie Instytutu sprawia dużo lepsze wrażenie niż strzelanie. Bardzo interesująco wypada połączenie fizycznej otoczki, gdzie chodzimy po ośrodku z myślami pacjentów i otwieraniem innych wymiarów. Podróżowaniem po spaczonych umysłach, poznając ich historie. To samo tyczy się wspomnień członków oddziału ratowniczego, gdy znajdujemy ich ciała, co ma później odzwierciedlenie w otoczeniu i danej lokacji.
S.W.A.N. oferuje kilka ciekawych plot twistów podczas całej, acz bardzo krótkiej rozgrywki. Najciekawszym jest jeden, który poznajemy na końcu. Sprawia on, że wszystko, czego dowiedzieliśmy się dotąd, zyskuje zupełnie nowe znaczenie. Zakończenie jest niestety tylko jedno, nieco zresztą rozczarowujące, a całość nie zachęca do powtórzenia, nawet ze świadomością, że nie odkryliśmy jeszcze wszystkiego, co przygotowali nieliczni twórcy. Szkoda też, że gra nie wyjaśnia wszystkich wątków w finale. Mimo wszystko chciałoby się poznać źródło tej historii.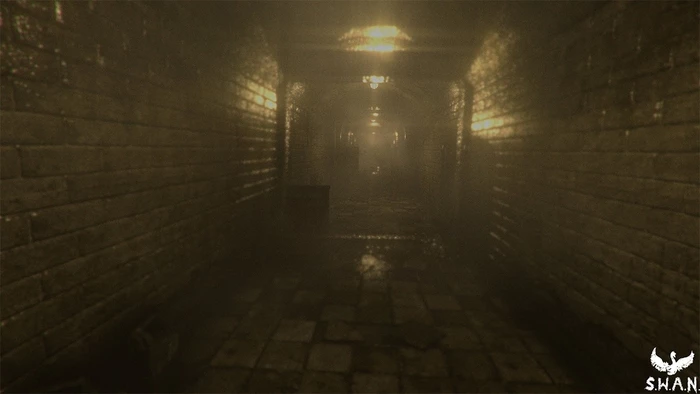 Gra – groteska
Produkcja ma przerażać, budować klimat. Udaje się to połowicznie. Za sukces S.W.A.N. można śmiało podyktować dźwięk i atmosferę, to one stanowią trzon i to one straszą. Jumpscare'y są, ale występują rzadko oraz dobrze je wkomponowano w rozgrywkę, zamiast wciskać na siłę, by tylko wywołać u gracza odruch. Ogólnie wychodzi to nieźle, niejednokrotnie można się solidnie wystraszyć. Niemniej, niektóre elementy, które miały straszyć, są w najczystszej postaci groteskowe. Jak wymienione wcześniej napisy. Tak samo projekt jednego z potworów, który porusza się sztucznie, wygląda jak kukła, bez żadnych znaków szczególnych. Nie robi nic ciekawego oraz nic nie przykuwa do niego uwagi. Inne napotykane zjawy są po prostu karykaturalne, śmiesznie podrygując sobie w powietrzu. Strona techniczna także pozostawia sporo do życzenia. Kuleje wykrywanie kolizji, przez co bohater zawiesza się schodząc po schodach. Co ciekawe, po metalowych nie możemy sprintować, ale po niemetalowych już tak.
Wolframiki
Po ukończeniu gry bardzo zaskoczył mnie fakt, że prezentacja napisów końcowych trwała zaledwie kilkadziesiąt sekund. Gra na parę godzin, z klimatyczną muzyką, pomysłem na siebie, dość ciekawą historią, ale średnią mechaniką została stworzona przez zaledwie paręnaście osób. Trzeba oddać im za to honor, ponieważ powstawały o wiele gorsze crapy w liczniej obsadzonych studiach i z zapewne większymi nakładami finansowymi.
Zagrać w to warto, zwłaszcza, że to polska produkcja. Gra potrafi być zajmująca, a osoby, które przyszły tu zwabione frazami "Czarnobyl", "katastrofa", "elektrownia", "syndrom bez nazwy" powinny być zadowolone z otoczki wydarzeń z kwietnia '86.