From the desire to publish a comic, through a distinction in the Janusz Christa competition organized by the Egmont publishing house, to a several-volume popular children's series, which has just received the Orient Men 2020 award. Interview with Berenika Kołomycka - cartoonist, sculptor, graphic artist and creator of albums about Little Fox and Big Boar
Jarka: The Little Lisek and the Big Boar is a series that was published thanks to the award in the Janusz Christa in 2015. 5 years have passed since then, and Lisek, Dzik and their friends still visit the Polish market. Has your relationship with the characters you've created changed over time?
Berenika Kołomycka: I like both the Little Fox and the Big Boar. I think I was a bit distrustful at the very beginning. It was a bit difficult for me to watch and write down the adventures of their lives, but now we know each other better and understand better. I don't know how many volumes the whole series will be. I don't think about it. The fox universe grows as I write, and they are close to me and it would be hard to say goodbye to them right now.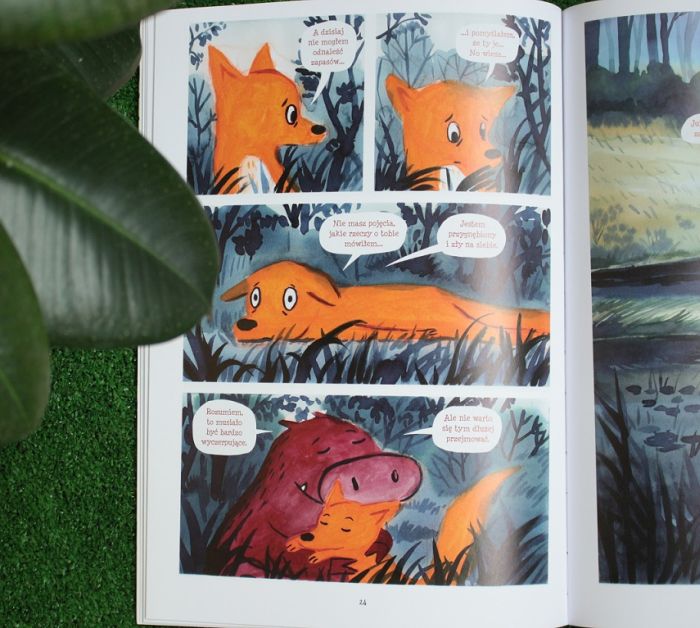 J: I know that the fox was inspired by the figure of your dog. But is he your favorite of the characters you've created? Is it possible to even talk about something like a favorite character in your own work?
BK: I think I like Lisk and Dzik equally. You could say both of them are one character.
J: What do you mean?
BK: These are two characters, but they complement each other perfectly. The fox is a stressed, distrustful, but full of energy and very mobile animal, and the Boar is calm, balanced and always trying to find a solution in a difficult situation. If they were combined into one, it would turn out that each of us is both the Boar and the Fox.
J: Your fifth album from the Lisku and Dzik series has just won the Orient Men 2020 award! Huge congratulations! How do you feel about the next honors for this series?
BK: I am very pleased that Lisek is appreciated and that this trend has continued for three years.
J: How did it happen that you decided to create a comic book especially for children? Where did the idea to target such a recipient come from?
BK: The beginning was accidental. It may not be the best answer, but I had no plans to publish a comic book for children. I wanted to make a comic, and because I found information about the competition on the Internet, it was it. And then it turned out that Lisek is cool and that it is worth investing in him.
J: And so your "some comic" was positively received so that it was released not only on the Polish market! Is it difficult to publish a comic abroad? How is this process going?
BK: It is not a simple matter. Usually, the rights to sell a license are owned by the publisher, and he or she works, going to various festivals or having a database of other potentially interested foreign publishers. In the case of Lisk, I only sold the rights to Poland and left for the rest of the world. I also don't have my own agent to represent me. I had to combine business with pleasure – that is, I started going to foreign comic book festivals myself, meeting people from other publishing houses and talking to them, showing my works. In the case of the Spanish publisher, Paweł Timofiejuk from the Timof Comics publishing house turned out to be a great link, who pushed me to talk to a representative from the Dibbuks publishing house. So you need a lot of motivation and funds and faith. Don't be ashamed of your work and wander around, ask and send. Every once in a while someone will write back, and maybe publish it.
J: Weren't you afraid that the translation would change the message of your work?
BK: I trust translators a lot. I paint nicely and they translate nicely. That's their job. It's hard work and underestimated, I have an impression. Until last year, I had no idea that there was a translation festival. It takes place in Gdańsk. Last year's festival gave lectures by Olga Tokarczuk, Andrzej Stasiuk and many other important authors.
J: Changing the subject a bit, tell me about your approach to creating comics. Is it more of a creative process for you, in which you wait for vein or maybe a purely workshop activity?
BK: There are days when I feel that I will definitely not paint anything, but I have ways to do it. Cleaning and tidying up the workspace is a very important moment for me before starting work. It mentally prepares me for painting. I'm slowly entering my world. I put paints on the desk, prepare paper and brushes. These are my rituals. It is sometimes difficult to walk, e.g. to sit at a desk and paint something. I can't do that. Every year I go to my family holiday home in Międzyzdroje, where I work on new fox albums. I am celebrating the preparations for the trip. I make sure that I will not run out of anything and that no one will hit me, because when I am there, I cut myself off from the world for a month and during this time I paint day after day. From 9 to 16 as long as the light is good. Then a walk and from the morning all over again: paints, paper and brushes. Sea, peace and work. It's a perfect mix.
J: Your description exudes an aura of peace, composure and self-awareness, which are also felt in the story you are creating. I wonder if the goal of Lisk and Dzik is to teach the youngest about the importance of understanding themselves and their emotions? I mean, for example, moments such as the scene with Dzik, who in the album "Horror" decides not to listen to rumors from the squirrel, since they can affect him badly.
BK: I would love it to be like that. That everything was as clear and obvious as in fox albums, and that the intuition did not disappoint anyone. These life truths and rules are known to us. I dressed them in the animal world and placed them under the apple tree. If we can enter this world, activate our emotions, become sensitive and have fun at the same time, that's wonderful. This is what I wish for everyone. First of all, children. Unlimited imagination and fun.
J: Thank you very much for the interview.